You might have read our previous blog about Kitchen Finishes. In that post we gave a brief overview showing how the finishes you choose, countertops, flooring, and cabinetry, can ultimately determine how inexpensive or expensive your kitchen remodel could be. Now, we will dive in to the specifics of flooring. Flooring can be broken down into three different price sections: low, mid, and high. We'll explain the advantages and disadvantages of the different types that fall into each price range, so that when it's time for you to remodel your kitchen, you'll know what you want!
LOW
In this category you could find two types of materials, laminate and luxury vinyl tile (LVT) or luxury vinyl plank (LVP).
Laminate
There are many advantages of laminate flooring. To name a few, it's easy to install which makes it easy to change later and update your look, and there are many styles and colors. A few disadvantages would be that it is easily damaged and can't be repaired unless you are able to replace a section. Along these lines, damages include water as laminate flooring is easily damaged by water. The average cost of installed laminate flooring is $4-8 per square foot.
LVT and LVP
Next is luxury vinyl tile (LVT) and luxury vinyl plank (LVP). The average installed price for this material is $5-12 per square foot. A few advantages of LVT and LVP are that they are easy to install and very durable. They are almost water proof and there are many styles and colors so it can look very realistic if you are trying to imitate wood or tile. Another advantage is that it's soft under your feet. Some disadvantages of LVT and LVP are that it's not the "real thing", it's hard to repair if damaged, and it's newer to the market so it hasn't been tested over time.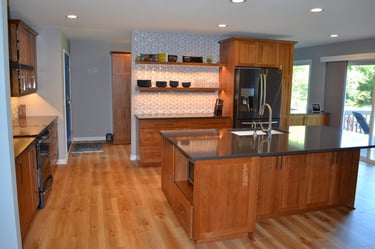 LUXURY VINYL PLANK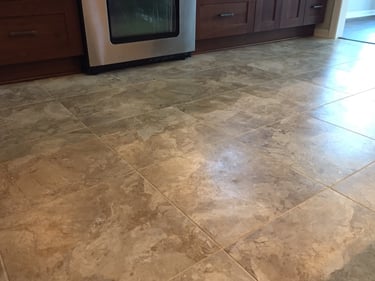 LUXURY VINYL TILE
MID
In the mid-priced range of flooring you would find pre-finished wood
Pre-finished Wood
Pre-finished wood has an installed price of about $8-12 per square foot. A few advantages of pre-finished wood are its easy installation and factory finish. Some disadvantages could include that you can scratch the finish off or it can wear off and many types of pre-finished woods are not refinishable. Also, pre-finished wood is damaged by water.
HIGH
The highest price range would include ceramic or porcelain tile and finish in place or character hardwood.
Ceramic or Porcelain Tile
Some advantages of tile are that it is very durable, moisture resistant, and there are almost unlimited styles and colors. This material has an average installed price of $18-26 per square foot. A few disadvantages would be that the grout lines can stain, it's hard under your feet, and it can crack if something large drops on it.

CERAMIC TILE
Finish in Place or Character Hardwood
Depending on the type of hardwood, the cost of this material installed can range from $10.00 - $25.00 per square foot. The advantages of hardwood are its natural beauty, unlimited species, colors, sizes, and patterns, and that it will be your lifetime floor. It has a natural patina and can be refinished. A few disadvantages would be that water will damage hardwood, it can develop "traffic" wear, it can be scratched and dented by moving large objects or dropping heavy or sharp objects, and it's hard under your feet, but not as hard as tile!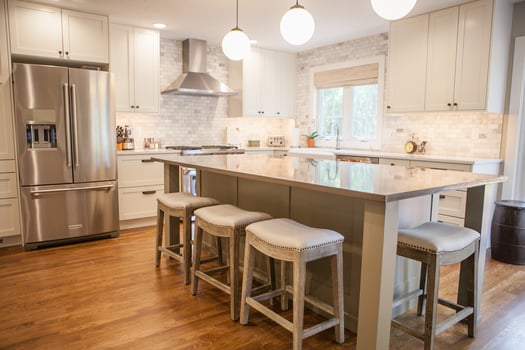 HARDWOOD WITH WP DURASEAL EARLY AMERICAN FINISH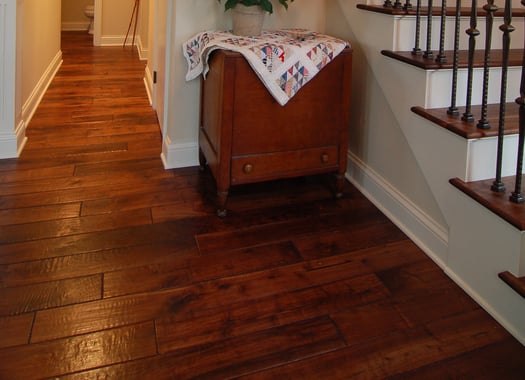 HAND SCRAPED AND BURNISHED OAK HARDWOOD
These are the basics to know about flooring. Understanding your lifestyle, your budget and your expectations is the key to selecting the right flooring for your kitchen. Hopefully this helps you know where to begin. When you are ready to start planning your new kitchen. GIVE US A CALL! we would love to make your dream kitchen a reality!