Recently, we introduced you to a first floor remodeling project we're working on with a couple in Pleasant Hill. When we left off, we had discussed what these clients liked and didn't like about the multiple options we'd designed. While they were in our office for their initial consultation, we came up with another option that incorporated a lot of their feedback. To review, these were their priorities:
– An oversized island that seats 8
– New IKEA cabinets
– Open kitchen shelving
– An "open concept" living room and kitchen
– A corner range with space to hang pans
– A designated entry area from the deck
– New hardwood flooring
Refining the design
The clients were pleased with the final kitchen layout from our first meeting, but when we met again, we presented several more options for the space that is currently a third main floor bedroom.
After thorough discussion of all the possibilities, we settled on the design below, which includes a built-in near the front entrance and a built-in corner media center in the living room for their TV and AV equipment.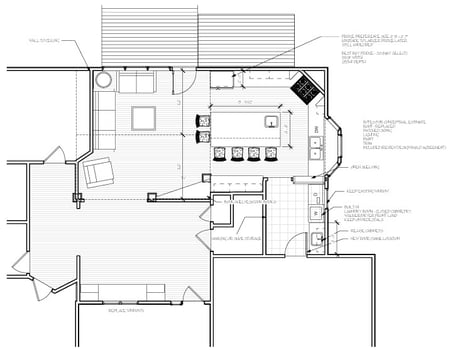 During this second meeting, we also decided which windows they want to replace and discussed what changes will have to be made to their roof and siding as a result of this remodel. We determined that Kaufman Construction will not do the roof project, but we recommended some companies to consider. We plan on patching the siding and possibly keeping the window in the mudroom in order to save costs.
The kitchen
During our third meeting the following week, we began the design development phase of this remodeling project. This meeting was all about the kitchen. They were considering a farmhouse sink, but the IKEA cabinets they chose were designed to only fit an IKEA brand one, which they didn't want. We figured out a way to customize the cabinets to fit the sink they wanted, but ultimately they decided to go with a more standard undermount sink.
They settled on a 30" GE range and GE Advantium conduction speed cooker (a combined microwave and oven). They also decided the kitchen island cabinetry will be gray, while the rest of the kitchen will feature off-white cabinets. All will be painted raised panel style. Some upper accent cabinets will have glass fronts with backlighting.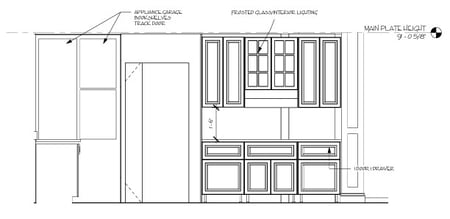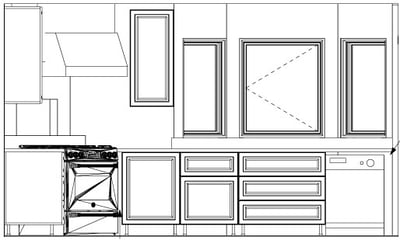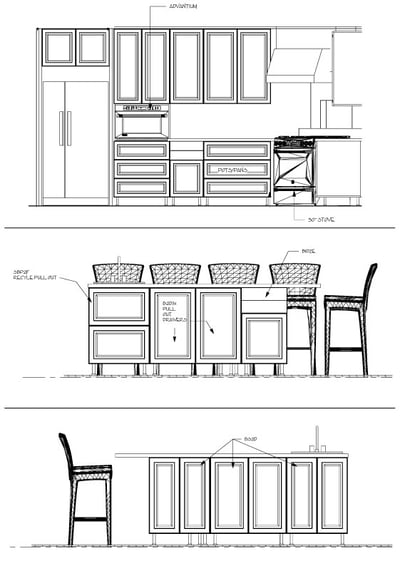 Following are drawings that include the final finish selections. The drawings include specific cabinet door styles, faucets, lighting, appliances, tile design, and other details. These visuals help clients can get a really good idea of how their project will look once it's put together and helps ensure everyone is on the same page prior to construction.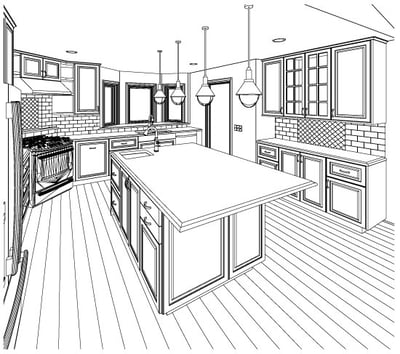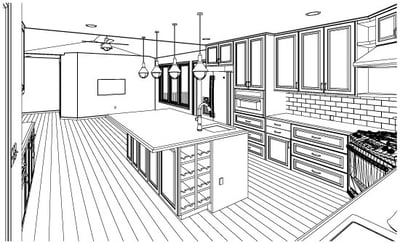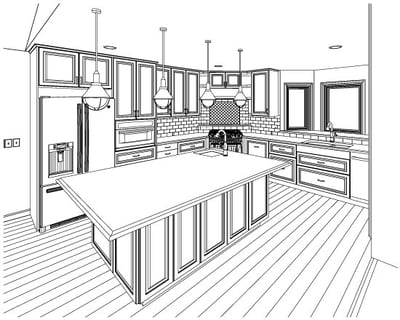 The finer details
A week later, KC's Interior Design Coordinator Kaitlyn DeVries took the clients to showrooms to decide on flooring and backsplash. She assisted them through all the thousands of options and encouraged them to install a moderately-priced, efficient tile backsplash so they could allocate a little more of their funds toward higher quality rich warm wood floors that look handcrafted and full of character. They agreed and were quick to make decisions!
A recap of their kitchen choices:
- Gray and off-white raised panel IKEA cabinets
- Granite countertops for the island. They chose a slab that's a perfect mix of warm and cool. It has gray tones that coordinate with the cabinetry, but also carries some brown elements, which add warmth. The clients liked this particular piece because it has consistent movement through the pattern and will be a nice focal point to tie the room together.
- Warm gray quartz countertops. In addition to offering a beautiful, durable, and versatile surface, this was a cost-effective option, as the brand we're using can be ordered to the exact size, so there won't be leftover material. All countertops will have an ogee edge profile, for a classic look.
- 3x6 off-white field tile and arabesque accent tile. The field tile, which will be installed in a running bond pattern for a traditional look, blends with cabinets to create cohesion. The arabesque backsplash accent tile features crackled gloss tile mixed with matte pieces. It's hand-crafted porcelain, which makes it a true piece of artwork, and will be used to accent the range and the glass-front cabinets.
- We encourage clients to wait until the end of the project to choose paint colors, but we often start putting together ideas during the design phase. Since these clients' kitchen will be very neutral, we'll add color through paint, cushions on stools, and curtains. Initial thoughts are to use a warm white paint throughout, with a burnt orange for accents.
As part of the design development phase, we also reviewed the electrical plan with the clients and decided where switches will be located. Additionally, we agreed on the HVAC plan and determined where vents will be placed. We guided them through choices on crown molding, base trim, and hardware. No detail is overlooked!
Check out next week's post, when we review how the project changed due to some financing considerations...