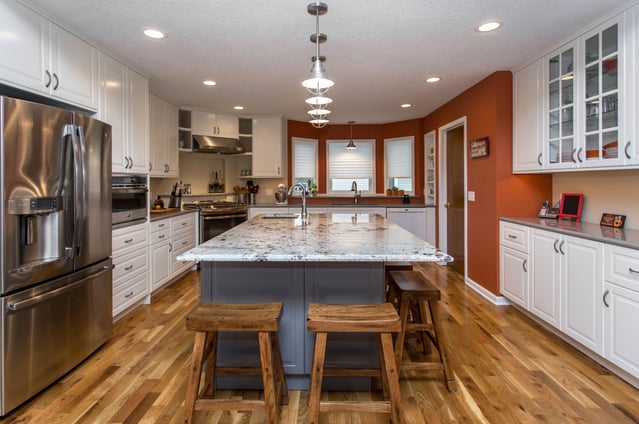 A home renovation just may be the most expensive project you'll ever tackle. Granite countertops, custom trim, hardwood flooring and other features certainly add to the cost, but there are other factors that influence the price. So why is the estimate for your Des Moines remodeling project higher than you expected? It all comes down to these factors.
Higher Costs When Compared to New Home Construction
Many times, consumers base their expectations for remodeling costs on new home prices. While you can compare material costs, all other costs have very little basis for comparison. Labor and construction management costs for new construction are lower than costs for home remodels. When you remodel your home, a larger percentage of your budget must be devoted to labor and construction management due to:
Demolition Costs: Walls, floors and ceilings must be removed in some cases before construction begins. Although TV home improvement programs show homeowners demolishing walls with sledge hammers, demolition must be done carefully to avoid damage.
Occupancy: Projects can be completed more quickly in new builds than they can in occupied homes. Since most people don't relish the thought of living in a construction zone, care must be taken to ensure that the building process is completed with minimal disruption to your life.
Access: Plumbing a house before drywall has been added is a much easier process than making changes to pipes in an older home.
Logistics: Almost all of the same trades must be used, whether you remodel your kitchen or build a new home. Supervising these trades is a time-consuming process that involves soliciting pricing, communications to set up and build the project, project oversight and price management. In fact, almost as much time and energy is required for a kitchen remodel as for construction of a new home.
Home building is more commodity based, while remodeling is service based. This is a simpler way to view the process. Most pricing for new home construction is expressed in price per square foot. The final product is the main focus of this type of construction. Although the end product is also very important in remodeling, you'll be more directly involved in the entire process because you will live through it.
Consumers sometimes forget or don't understand this difference. They focus on the end product and forget or aren't sure how to compare remodeling firms based on the services provided. In most cases, remodeling firms are judged just as much by the services they offer as the final product. Learning about the differences can help you understand the price variations you see in new construction and grasp why remodeling firms often charge very different prices for the same project.
Cost of Materials
The total budget for your project also depends on the quality of the materials and features you select. If you're contemplating a mid-range kitchen remodeling project in Des Moines, you can expect to spend $61,182 according to Remodeling's 2017 Cost vs. Value Report. A major upscale project will cost nearly double that figure.
Type of Home Remodeling Company
No matter which remodeling company you choose, the cost of materials will be roughly the same. The markup is the reason that the estimates you receive may vary widely. A solo contractor may add a 15 to 25 percent markup to the project's direct costs (materials, labor and services) when determining price, while a larger company might target 30 to 40 percent.
Although larger companies charge higher markups, they don't actually make more profit on the job than one-man shops, in most cases. The difference in price relates to overhead. A larger remodeling company has higher overhead costs than smaller ones. For example, they may need to pay utilities and rent/mortgage for office space, while a solo contractor might work out of his home. Although a solo contractor may only need one truck, larger companies might maintain four or five trucks and also use more specialized or costly equipment.
You're probably wondering why you should choose a larger remodeling company instead of a solo contractor. If cost is your primary motivation, a one-man shop might be the best choice for you. There are true supermen and women in this industry who can accomplish amazing amounts of work in a day, and I know a few of them.
Unfortunately, some aspects of the project and/or experience may be affected when one person tries to do it all. At some point, you may even need to step in and hire and supervise a sub-contractor to handle a portion of the project that the solo contractor can't tackle.
Time management can be a problem when a contractor runs a one-man shop. In addition to working on multiple projects at the same time, he must also spend time on sales calls, construction management, administration, field labor and other tasks. Not surprisingly, it may not be so easy to reach a solo contractor when you have a question or concern.
Larger companies have the manpower, resources and technology to make the remodeling process a rewarding and stress-free experience for you. In fact, you won't have to lift a finger. From the design phase to the construction stage, the company's professionals will manage the entire remodel, leaving you free to take care of more important things in your life.
They'll also make staying in touch with you a priority. During the remodel, you'll be in frequent contact with the team, who will take the time to update you on the project's progress, discuss the upcoming schedule and answer your questions promptly. If the company you choose offers an online client portal, you'll even be able to check on the progress of your remodel any time you want.
Whether you choose an individual contractor or a remodeling company, it's important to consider not only price, but also the skill, experience and level of service that the remodeler offers. Our 10 Questions Checklist can help you decide which questions you should ask when interviewing potential partners. Do you have questions about the design-build process? We'll be glad to answer them if you'd like to get in touch with us.