Western Red Cedar
The trend toward outdoor living is inspiring more and more homeowners to ask for luxurious remodels that bridge the gap between the house and the outdoors. Whether it be an outdoor kitchen, living room, pool surround, fire pit, or private retreat, it most likely is going to involve a deck as part of the design. Building a deck will require you to select a decking material, considering factors such as cost, beauty, durability, and availability.

It turns out that the array of available materials has been growing as people look for more options for their outdoor spaces. The price range is broad, running through alternatives such as treated softwood, manmade materials that mimic wood, and exotic hardwoods. In this blog post, we'll be looking at the natural options.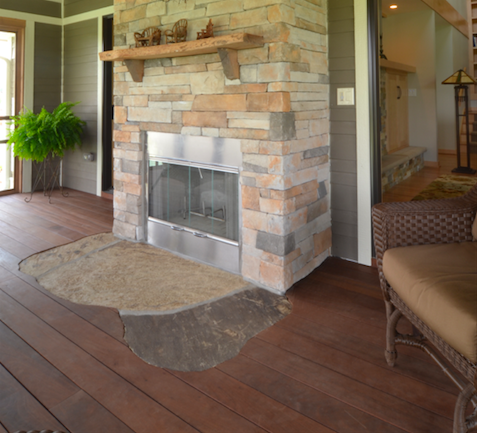 Ipe
Treated Softwood
The most basic, and lowest-cost, deck material is treated softwood such as spruce, pine, or fir. This wood, usually a light green color (because of the copper in the preservative) and sometimes containing small puncture marks, is what many people are used to seeing on decks.
The biggest advantage with treated lumber is its cost. Also, it's easy to work with because it's soft which makes it easy to screw down and easier to cut.
But the cheaper materials have drawbacks, of course. Unless you regularly apply a finish, the wood is going to age to a silver-gray color. Also, it's prone to shrinking, warping, and twisting, and cracks and splinters can develop, often in the places where screws were affixed.
Treated Softwood
Western Red Cedar
Moving up a step along the natural-wood price continuum, we come to Western red cedar. Because of the naturally occurring chemicals in cedar, it resists rot and has been used in this country for hundreds of years for siding, roof shakes, and fence posts. Cedar is quite soft, so it cuts and accepts screws easily and isn't hard to work with. It also is dimensionally stable and usually has a straight grain and a nice brown or golden color when it first goes on a deck.
One drawback to cedar is that, like softwood, it is prone to weathering, although it doesn't splinter as much. Some builders also consider it too soft for use on a deck surface because it scratches and dents relatively easy.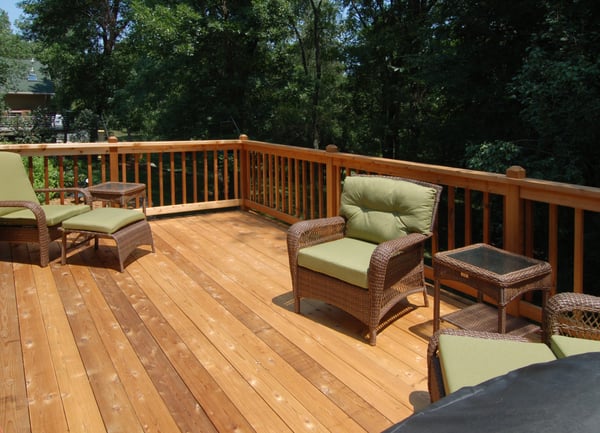 Western Red Cedar
Redwood
Redwood exhibits many of the characteristics of Western red cedar but is more durable and, depending on the quality of the wood you buy, can be significantly more expensive. The grain can be straighter, with fewer knots, than red cedar.
A drawback in the Midwest is that its availability is unpredictable.

Redwood
Hardwoods
Exotic hardwoods such as cumaru and ipe (pronounced "EE-pay") win high praise as decking material because of their super-dense nature. There's a reason that ipe was used for the Atlantic City boardwalk and parts of Fisherman's Wharf in San Francisco. Although ipe rises to the top of the decking material price chart, its long life means it won't have to be replaced…possibly in your lifetime. The wood, from Central and South America, also is called ironwood because it's so dense – it doesn't really even float in water. It doesn't have problems with knots, splintering, or warping, and its beautiful rich brown color is another reason that homeowners and designers love it. If left untreated, it will weather to a silvery color. A penetrating oil will allow it to hold its color through the weather.
Ipe wood's hardness means it's tougher to work with. Carbide-tipped saw blades will cut it, though, and typically the decking boards come with grooves cut in the sides to accept concealed fasteners that builders use to install it, rather than screwing through the surface as is done with softer woods. The concealed-fastener system brings with it higher costs because the fasteners are pricier than screws, and the installation takes longer.
If cost weren't a big factor, we'd choose ipe every time because of all the benefits mentioned above.
Ipe
STAIN
We have found that an oil that penetrates and protects the wood from water damage is much more beneficial than a stain or finish that just coats the wood. Stain has a very short life span, and even the best stain fades away eventually. If your deck is in direct sunlight or is a high traffic area in your home, your stain will quickly fade and require much maintenance. In our opinion, another good option is to just let the wood fade to it's natural silver or gray color. It can be very beautiful, especially in the case of hardwoods like ipe.