What is the first thing you notice when you step into your shower? It might be time to start thinking about a shower renovation if cracked tile, grimy fixtures, and stained walls are the first thing you see. Here at Kaufman Construction we've been reinventing the shower for years. There are so many cool new ways to design showers that make them more efficient and more pleasing to look at.
SHOWER DOORS
Let's start with the biggest nuisance in shower design –icky, dirty shower doors. If you have a door on your shower, you probably understand how annoying they can be. They are extremely hard to keep clean and can easily make your bathroom look dated. What we've discovered, though, is that a shower door is an option, not a necessity if the shower is designed with that in mind. I know you're probably thinking a doorless shower would only work in a home with a huge bathroom, but a door is no longer necessary even in a small space like replacing a tub with a shower. This is possible because of shower head enhancements. These advancements are mounted higher and designed to spray vertically rather than at an angle. Because of this, they use less water and still provide the rain shower experience.

Notice the unique storage niches in this shower. Also, the valve placements make it easy to turn on the water without stepping into the shower. Find more pictures of this project on Houzz.
If a door is desired, our recommendation would be a large plate glass door with very little hardware to collect dirt and scum.
GET CREATIVE WITH LAYOUT
With all these new ideas, it's easy to get creative when designing a shower and it's easy to gain space by integrating materials and functions.
Glass Panels
For example, instead of walling off your shower completely, use glass panels, which make for a very narrow wall. This opens up your shower, allows light in, and makes it feel bigger.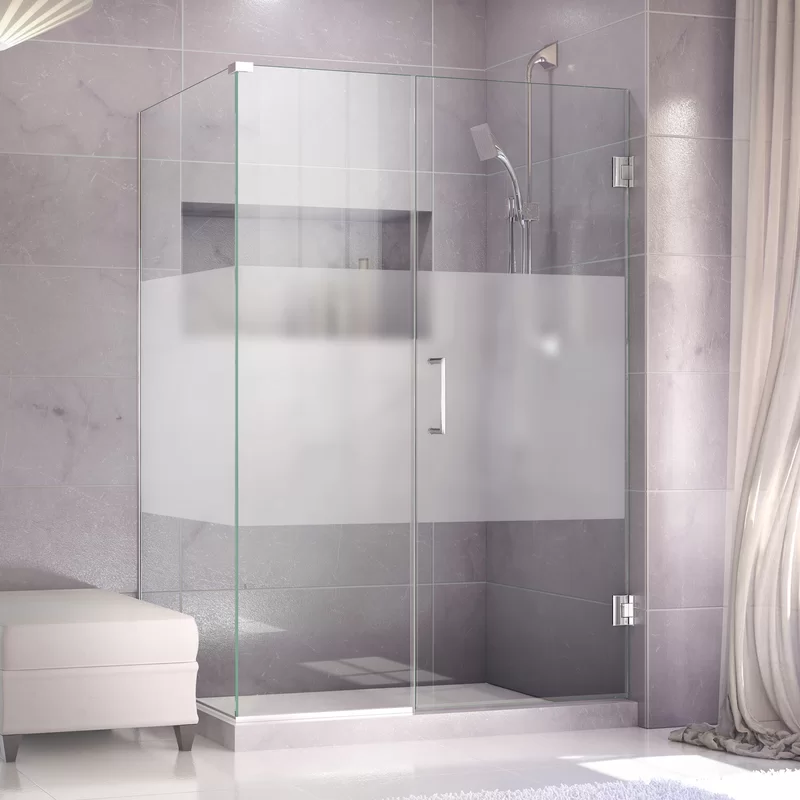 Photo courtesy of houzz.com.
Knee walls
Another idea is to have a knee wall double as a storage shelf. This is convenient and helpful. You're already going to have wall there, why not make it a storage shelf as well?

In the photo above you can see the glass panel wall and the knee wall for storage. Additionally, the shower head sprays vertically. Find more pictures of this project on Houzz.
Tub Decks
Next idea is for the tub deck to extend "through" the glass wall to form a bench in the shower. This is an awesome and convenient design idea to increase the size of your shower and still keep the tub.
Wet Room
Our favorite, though, is a wet room concept. This is where the toilet and shower share one room.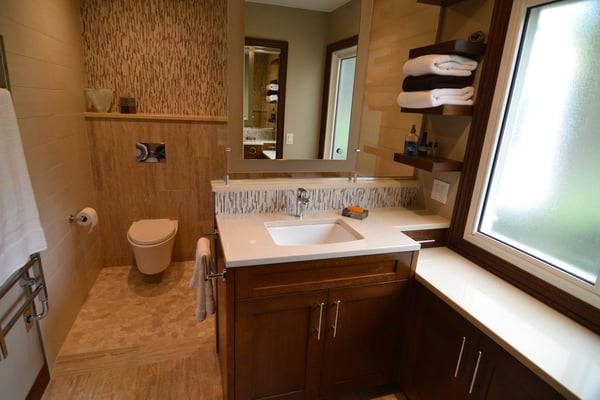 The shower is behind the mirror. Find more pictures of this project on Houzz.
There are no barriers and space for each function feels bigger. You could spray down the toilet with a hand shower if you wanted to!

In the drawing of a wet room above, you can see the yellow area is for the toilet and the blue area is the shower area, but the green shading shows that the two areas are really all one.
DRAINS
The traditional drain requires the shower to slope in four directions so that the water is constantly draining. This requires small mosaic tiles, to conform to the contours. If a linear drain is used, the shower only has to slope in one direction, which provides the option to use larger format tile.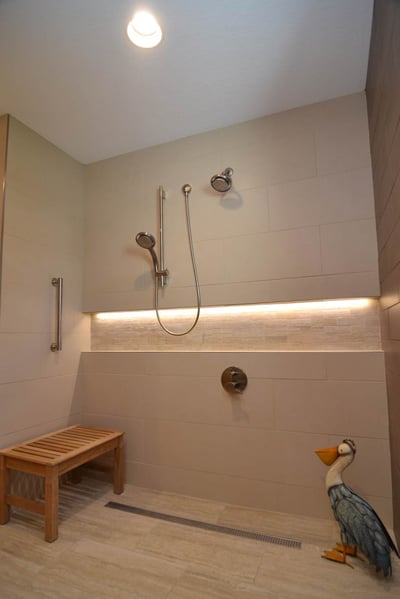 Find more pictures of this project on Houzz.
Barrier Free
The barrier free shower is perfect for those who are remodeling with the objective to live in their home well into retirement age. This design philosophy, also called, "aging-in-place", where each aspect of a home is designed to be usable as you age. It's convenient in its accessible design because there is no curb or lip as you enter the shower.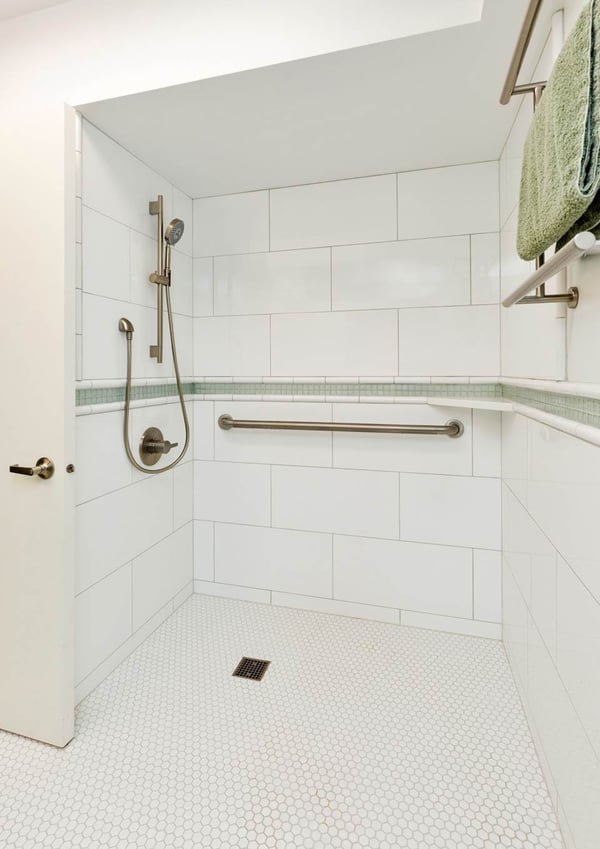 There is even less of a concern for a shower door when using this barrier free entry because water can "splash" almost anywhere.