Project Manager Josh Kruse shares how he's coming to understand the "why" behind the way Kaufman Construction approaches every project, every home.
As a Project Manager at Kaufman Construction, my job on a project more or less picks up where Devan's ends (even though Devan's job never really ends until the project is complete).
As the visionary of the company, Devan is the initial point of contact for most of our clients. He spends a lot of time with homeowners before I ever enter the picture. He gets to know them and their style preferences; he talks through plan ideas and design options with them; he learns about how they spend their time and how they live in their home, so his design can honor that.
My job is to take the approved design and manage the day-to-day work, from making sure we have the materials and subs lined up to supervising our own staff and keeping up daily communication with the homeowners.
I've been at Kaufman a year-and-a-half now, and I recognize that an important part of my job is to make sure we meet Devan's and the homeowner's vision of the work. Until this past fall, I don't think I really understood what that meant.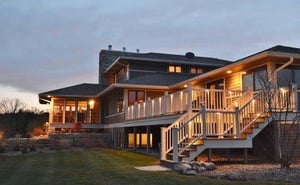 When you work for someone else, there are always parts of your job that you do simply because you're told, even if you don't understand why. And when you're the middle man, like I am between Devan and the subs or the crew, it's important for me to be able to communicate that vision. But there were times when I really didn't understand why Devan wanted things done a certain way or why we were putting so much work into parts of the project that no one would even notice.
And then I stepped into a house Kaufman Construction built in 2013.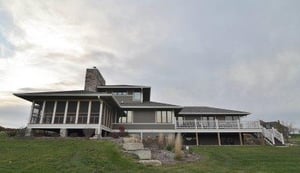 My assignment that day was to meet with the homeowners about a warranty issue. They'd been in the home almost six years, since long before I joined the company, so I knew nothing about the project except that it had been a new construction job. My objective was just to take a look at the warranty issue, get it resolved, and move on to the next task on my list.
Standing at the front door, before I even saw the interior, I remember thinking that this house felt different. But I couldn't have described why - it wasn't an unusual color or style; it didn't should "look at me, I'm different" the minute you pulled in the driveway.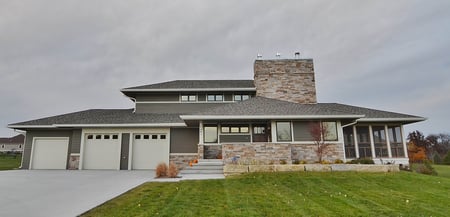 The homeowners welcomed me inside and, even though they'd been in the house six years by then, I could tell they were just as excited and proud of their house as the must have been when they moved in. They insisted on showing me through the entire home, pointing out details, talking about how Devan designed each room and each detail.
I've been in plenty of high-end houses, and the new ones all seem to share common traits - the woodworking is either minimal to emphasize how open everything is, or the trim details are show so it seems like that's all you notice. Everything is just big and noticeable.
Seeing the details in that home, recognizing the same minute attention that Kaufman gives even in smaller scale projects, but to see them put to use throughout the house was totally different. It was modern, but in a timeless way. It wasn't about how many rooms to fit in or how open the layout could be or how high the ceilings were - every detail was designed to work together and to fit the homeowners exactly.
The homeowner showed me one of the rooms, which looked like a sitting room or office, and said it also served as the guest room when family was in town. It was this comfortable room that share a wall with the great room, and the wall was open above the bookshelves, so light come through from one room to the other. I remember thinking that was a nice feature, but unusual for a guest room.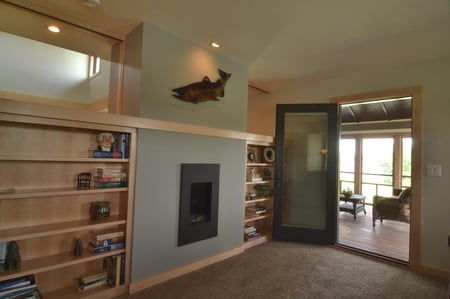 When I visited the house later, to follow up on the warranty repair, the room was set up as a bedroom, and it totally changed the space. The open wall had sliding panels that closed it off from the great room, and there was a murphy bed folded out. It didn't look like a study used as a temporary bedroom - it was a completely different space.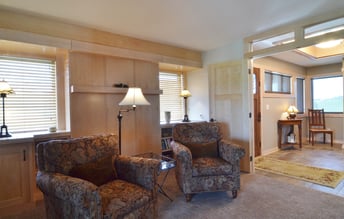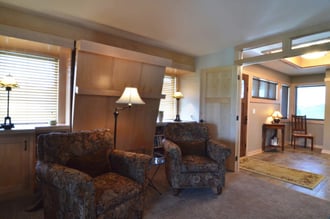 The first time I left the house, I just had this sense of "wow." I couldn't put my finger on it, but I knew that house was different. When I left the second time, I realized it was because it wasn't just somebody's home; it really felt like home, and it was because of the way Devan approaches design.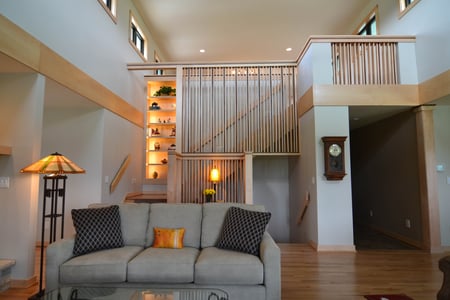 Sometimes I still don't understand why Devan wants to approach something the way he does, but now that I've seen what that approach can create, I trust it more. I still ask questions - that's part of my job, too - but if I don't understand his thinking, I don't question that.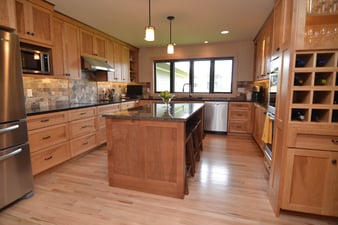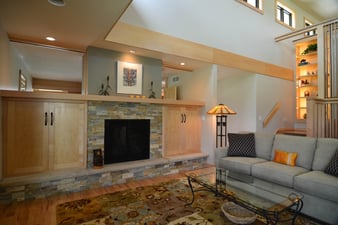 People come to Kaufman Construction because they know our reputation and they know the kind of work we do. But to see all that design influence in one place, throughout the entire house, was eye-opening for me. It gave me a different perspective on the company I work for and how I approach my role as a Project Manager. I feel like, even on the small projects, we're not just remodeling something; we're creating a home, every time.