The most commonly remodeled room in the house, the kitchen is also the most misunderstood when it comes to design. Terms like "work triangle," "task lighting," and "focal point" get thrown around frequently, but they can cause a lot of confusion if you don't ask the right questions.
Below, we clear up some of the most common misconceptions of kitchen design, to help you envision a space that will be both beautiful and functional.
Myth #1: You have to use every corner.
There's nothing wrong with the standard L-shaped kitchen plan. For many homeowners, it's efficient and convenient. But that typical layout comes with some drawbacks, including that awkward corner - generally a large, logistical nightmare.
In an attempt to make use of that deep, unwieldy space, cabinet makers have developed a variety of accessory options - the lazy Susan, pie-shaped spinning shelves, custom pullouts, etc. Unfortunately, what they make up for in storage, they often lose in accessibility.
Some careful planning and the skill of a good design partner can give you all the storage you need without turning that inaccessible corner.
For example, opting for a longer cabinet wall and spacious island might offer you comparable storage with better work and dining areas. Creating a floor-to-ceiling cabinet wall also adds a built-in look while leaving the island as a functional focal point.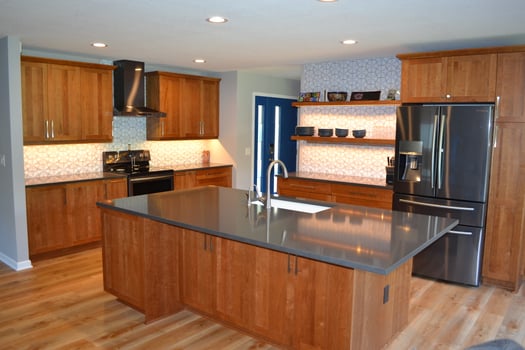 Myth #2: Base cabinets should be 2-feet deep.
No matter how much you own or how full your cabinets, you probably find yourself using the first 12-inches of cabinet depth the majority of the time. The things you use daily are stored in the front, and the back of the cabinet becomes a dumping ground for larger items or those you use less often.
Decades ago, kitchen cabinets were built to a 12-inch depth so that everything was within reach. The workspace was more often a central table. But as homeowners began demanding more work surface, cabinets grew deeper to accommodate the larger countertops. The trade-off was deeper storage that was more difficult to use.
As kitchen layouts have changed in recent years, with larger islands growing in popularity, the need for 2-foot deep wall cabinets has declined, but the design habit has remained.
For greater usability, consider taller wall cabinets that are only one foot deep, like the floor-to-ceiling cabinet wall mentioned above. This not only makes all of your storage accessible, it frees up space for a larger island, providing more work surface and increased dining space.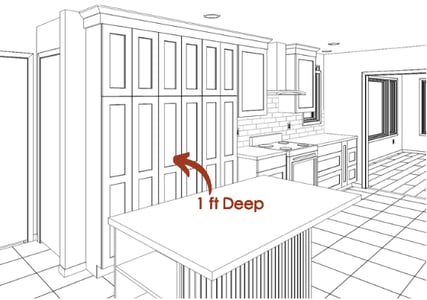 Myth #3: Customized features are always an asset.
Keep in mind, "personalized" is not the same as "customized." You want your home to be personalized - to reflect your tastes and lifestyle. But if everything in the home is customized for a particular task or individual, that could easily make it useless to everyone else.
Designing a kitchen for the way you live is important. If you bake often, entertain regularly, or have a particular accessibility needs, your design partner should accommodate that. You might need a larger island that can serve as both workspace and dining area. Or perhaps you want a built-in buffet. Maybe your microwave and dishware need to be below counter level, with open upper shelves primarily for display.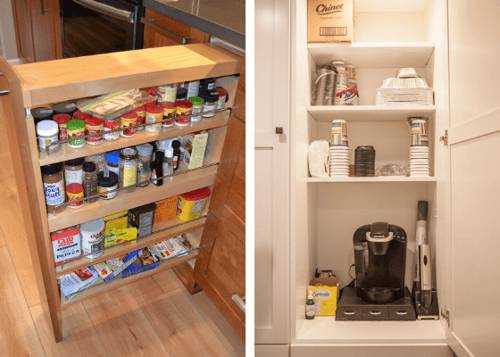 All of these features personalize your kitchen for your individual needs. Building special cabinetry for every trend appliance, however, could be over-customizing. Two years from now, when you decide you don't, after all, want to make your own pasta every weekend, that specially-designed lift-out shelf for the pasta maker may not be so useful.
Myth #4: More lighting is better.
Quality over quantity is a key guideline when it comes to lighting. Where you place your lighting makes a greater impact than how much lighting you have. Your lighting should be designed in layers - one to light your work areas, one to highlight features, and one to accent.
Designed well, a light fixture's location can serve more than one purpose. For example, under cabinet lighting is not just for accent purposes. It can also serve as task lighting. And well-placed ceiling fixtures not only brighten the room but serve as task lighting in front of the refrigerator, in the pantry, or over the stove.
Your design team should not only address the style of the light fixtures but how their light will enhance your kitchen's look and its function. And coordinating these layers with a minimum of light switches will make it easier for you to highlight every feature in your new kitchen without having to flip a dozen switches before you find the one you need.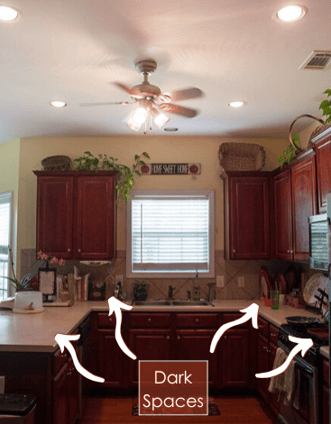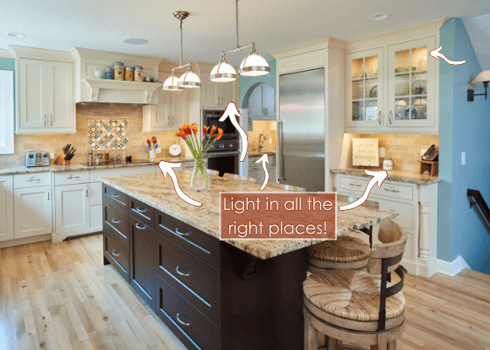 Myth #5: Bigger is better.
Sometimes, when you recognize a space isn't working well for your family or your life, you might assume you need more space, when what you really need is better space. Making a disorganized room larger, with all the same - or more - rarely used appliances and packed cupboards, won't solve your dilemma.
Start by asking yourself some honest questions- what do you use every day? How do you use your kitchen? Do you need a dining area only or space at the counter for eating? Do you entertain often? Do you need space for more than one cook in your kitchen? Which appliances do you actually use and which are just taking up space?
Oversized restaurant-style stoves and refrigerators are beautiful, but they should also make your kitchen more functional. Open shelving, with the dishes you love and use every day, can offer more satisfaction than a wall of cabinetry crammed with old storage containers.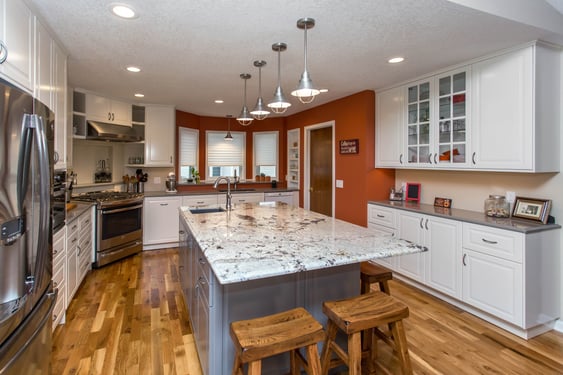 Like most myths, misconceptions regarding kitchen design continue to exist because we don't stop to question them. Partnering with a designer like Kaufman Construction, who will take the time to ask the right questions - will help you create the answer that's best for you.