Recent posts have highlighted flooring and countertops and how they can influence the finished look and cost of your kitchen.
Cabinetry is another key element in your kitchen design, so making the right decisions here can affect the success of your entire project. Below, we walk you through three areas that deserve particular attention.
BUDGET
This is true of any project, but it's especially the case with cabinetry selection – going in with a budget first will make the rest of the process much more efficient and enjoyable.
As you'll see throughout this post, similar looks can be achieved at a wide range of price points – you may not have to buy the high-end custom cabinets to get the look you love.
Knowing what you are willing (or able) to spend will help you evaluate your options more easily as the project continues. It will also help you prioritize the items on your wish list and the construction features that matter most to you.
PRIORITIES
Once you have a budget in mind, the fun can begin. This is where you start prioritizing the features and construction elements that you want in your kitchen.
Most homeowners go straight to the door style when choosing cabinetry, but taking a step back to consider construction and frame style first will not only affect your bottom line, but will ensure you're happier with the finished space for the long-term.
Cabinetry products are typically either framed or frameless construction, which refers to the face of the cabinet box. Though both are available in a variety of finishes and styles, the construction of the cabinet face has a noticeable effect on the finished look.
Framed Construction
Framed construction, as the name implies, adds a frame on the front of the cabinet box.

Framed cabinet box
Because of this, door styles are more commonly a full- or partial-overlay of this frame, which means the finished appearance can include inconsistent or wide gaps between doors rather than a "seamless" look across the cabinetry.
Partial overlay cabinet doors; photo courtesy of Houzz
Many framed cabinet companies do offer inset doors, which give a smoother look, since the doors are flush with the frame, but the framed construction and inset doors reduce the opening width and can reduce available space for storage and pullouts.

Inset drawers
Frameless Construction
Frameless construction, on the other hand, offers full access of the width of the cabinet box and allows for a flush door assembly, with narrow and consistent gaps between doors and drawer fronts for a very clean and smooth overall look.

Frameless cabinets and full overlay doors
Often described as European-style, because this design has been standard in Europe for decades, frameless cabinets have become more common in the U.S. as kitchen styles have moved away from traditional to a sleeker look.
Box Construction
Box construction also plays a part in the final cost of your cabinetry. High-end custom cabinets are constructed of either a solid wood or engineered wood box (MDF or plywood) with ample bracing, while budget or builder grade and flat pack kit cabinets are typically particle board boxes with limited bracing.
Though the custom option is usually higher quality and stronger construction, the real factor in box construction is the installation and the quality of the hardware within the cabinets. Less expensive cabinets that have lower quality box construction and fewer style options, but still use quality drawer glides, hinges, and custom storage features can be expertly installed by a skilled craftsman and achieve beautiful, long-lasting results for far less cost than custom.
With your budget in mind, you can compare the pros and cons of framed vs. frameless cabinets and custom vs. builder-grade box construction, and you can better evaluate which elements will actually add value to you as a homeowner and which are not worth the higher price point for you.
STYLE
Once you've determined the construction elements that are worth incorporating into your budget, you can focus on the style of the finished cabinets, and you'll have a better idea how much you have to spend on added features and finishes.
Doors
The door style won't dramatically affect the total price of your kitchen. As we said above, though, the box construction and choice of framed or frameless structure will not only affect the cost but will, in part, determine which door styles are available to you.
Material
The wood species you choose will affect the cost of the cabinetry and may affect the finish options available as well. Woods such as cherry, walnut, and quarter-sawn oak as well as exotics like teak or sapele are typically higher price-point species than woods such as maple, oak, and hickory.

Natural Cherry
Quarter-sawn Oak
Finish
Painted finishes tend to run higher priced than stains, because the painting process requires more layers. Adding glazes increases this cost as well. Another factor to consider when choosing painted or stained finish is the visibility of joints in doors. A painted finish on a solid wood door will actually make the joints more noticeable, where as a routed MDF door will not show joints and can actually emphasize that the door is not a traditional style and rail door (typically less desirable). Stained finish reveals the wood's grains and textures and shows the individual pieces of each door and the joints are part of the overall look of the door and drawer fronts.
Drawers
Lower cabinets can be designed with shelves, pullout shelves, or with deeper drawers designed to hold dishes and pans. Though drawers can add to the cost, their convenience can offset that price. With rollout shelves, cupboard doors must be opened fully in order to access the rollout. Drawers eliminate this awkwardness and take up less space when opened.
Specialty items
Trendy features like appliance shelves and custom cubicles should be weighed against their long-term value. Will you still need just the right spot for that pasta maker in a few years or will that fancy pull-out system just become an annoyance?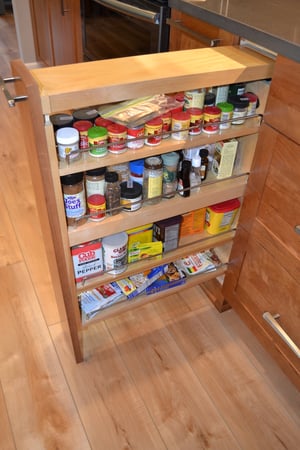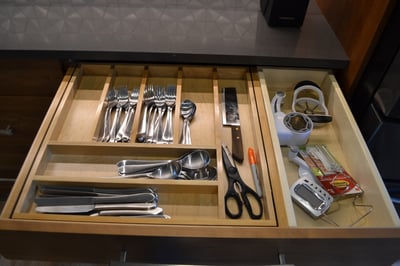 Other Features
Options such as recycling centers, spice drawers, and dish inserts are readily available from most cabinet companies. But if there are particular interior features that are a priority in your kitchen plan, make sure they're compatible before finalizing your cabinetry choice. In addition, details such as molding, light rails on upper cabinets, and legs or furniture styling on base cabinets will add to the finished price.

This kitchen has it all! Framed inset upper cabinets, frameless full overlay lower cabinets, and many custom touches and moldings for a furniture look.
A kitchen remodel can increase the value of your home and make it a more enjoyable place to spend your time and to entertain friends, but it can cost in the tens of thousands or hundreds of thousands of dollars. That number can climb rapidly if you don't have a budget in mind and a design partner that can help you create the look you want within that budget.
Ultimately, you should pay for what you value. Putting your money in the features that matter to you, and not in the ones that don't, will result in a kitchen that's worth every penny.