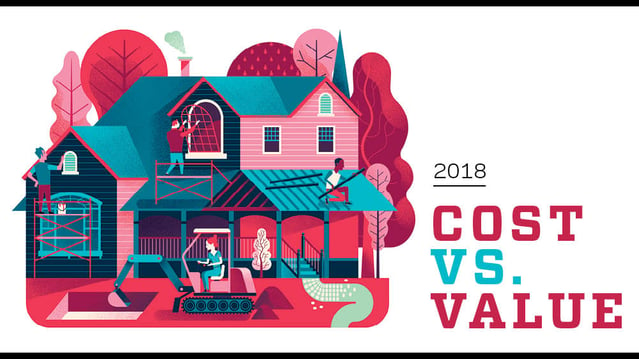 While a major remodel of your kitchen or bathroom should be undertaken primarily as an investment in your lifestyle, such projects also do increase the value of your home. Remodeling magazine's recently released 2018 Cost vs. Value Report can give you a sense of how much of the money that you put into such a remodel you could expect to recoup in the increased value of your Des Moines, Iowa, home.
The report gives estimated price tags for 21 home-improvement projects, the dollar amount your home could increase in value, and the percentage of the original cost that you could recoup in appraised value. The magazine surveyed more than 100 markets across the country, demonstrating that the costs and home-value impacts of a project vary widely by region. We will look at figures from the Des Moines, Iowa, area, with comparisons to the West North Central region and the United States as a whole. The prices listed for Des Moines are comparable to what you could expect a design-build remodeling company such as Kaufman Construction to charge.
Only two of the listed projects return a higher percentage in Des Moines than the national average — an upscale bathroom remodel and an upscale major remodel of a kitchen. We will look at both of those projects.
The good news for us here in Des Moines is that Remodeling says that the expected return for an Upscale Bathroom Remodel is more than 80%!
Upscale Bathroom Remodel
The bathroom project that Remodeling used as an example would expand an existing 35-square-foot bathroom to 100 square feet within the existing footprint of the home. It would feature spa-like features such as a 42-by-42-inch neo-angle shower with a frameless glass enclosure, body-spray fixtures, recessed shower caddy, and ceramic tile walls. The new bathroom would have a free-standing soaker tub with high-end faucets, a separate toilet enclosure, custom cabinets with a stone counter top and two sinks, general and spot lighting including a fixture in the shower, and two mirrored medicine cabinets with lights. The floor would be made of large ceramic tile matching the shower walls and would have electric in-floor heating.
Cost vs. Value
That project would cost $59,390 in the Des Moines area, Remodeling said, with an expected increase in the home's value of $48,038, or 80.9 percent recouped. In the West North Central region, the cost was estimated at $62,169, with a home value increase of $34,668, or 56.1 percent. Nationwide, the average cost of the remodel was estimated at $61,662and the home value increase at $34,633, or 56.2 percent.
Here's an example of a Pull and Replace Bathroom Project completed in 2017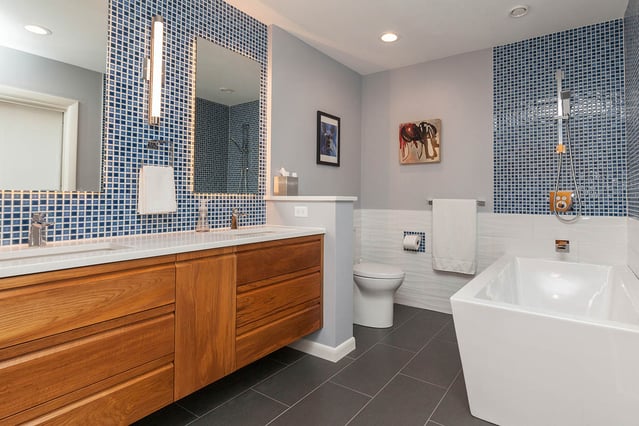 A more modest remodel of a 5-by-7-foot bathroom included in the Cost vs. Value Report would give a smaller percentage return. The estimated cost in Des Moines was listed at $18,719, with a $10,615 increase in home value, for a 56.7 percent return. The cost recovery was estimated at 59.2 percent in the larger region and 70.1 percent nationwide.
Upscale Kitchen Remodel
For a remodel of a dated 200-square-foot kitchen using upscale finishes, the report gave the following specifics: 30 lineal feet of top-of-the-line custom white cabinets, stone counter tops with imported ceramic or glass-tile backsplash, built-in refrigerator, commercial-grade cooktop and exhaust hood, built-in microwave, wall oven, high-end under-mount sink with designer faucets and water-filtration system, new lighting including under-cabinet fixtures, and wood-grain tile or similar flooring.
Cost vs. Value
A kitchen remake like that would cost $122,533 in Des Moines and add $66,250 to the value of the home, for a 54.1 percent return. In the region, the price would be $126,871, the value increase $62,586, and the return 49.4 percent. The national average was estimated at $125,721 for the job, $67,212 in increased home value, and 53.5 percent recouped.
Here's an example of a Kitchen Remodel completed back in 2015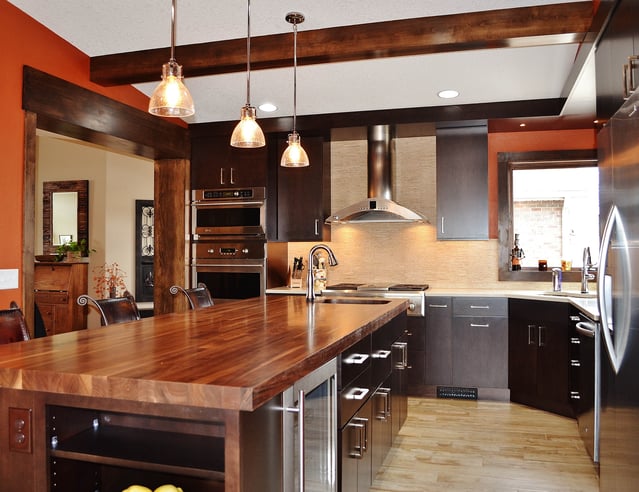 A kitchen remodel with midrange finishes and appliances would cost $63,629 in Des Moines, increase the home's value by $32,361, for a 50.9 percent return. In the West North Central region, the numbers would be $64,748 cost, $33,947 value increase, and 52.5 percent return. The national averages were estimated at $63,829 for the job, $37,637 value increase, and 59.0 recouped.
(The figures cited here are according to the Remodeling 2018 Cost vs. Value Report for the Des Moines, Iowa, area. © 2018 Hanley Wood Media Inc. Complete data from the Remodeling Cost vs. Value Report can be downloaded free at www.costvsvalue.com.)
With all these figures to digest, keep in mind that remodeling your kitchen or your bathroom will pay dividends in making your life at home more comfortable and convenient, even if you can't expect to make all your money back when you sell your houseHere's another way to look at investing in your home – remodeling your home is a true investment because it is an appreciating asset; as opposed to "investing" in a new car (which could easily cost as much as a remodeled bathroom) - the car never appreciates in value, it is always declining in value.