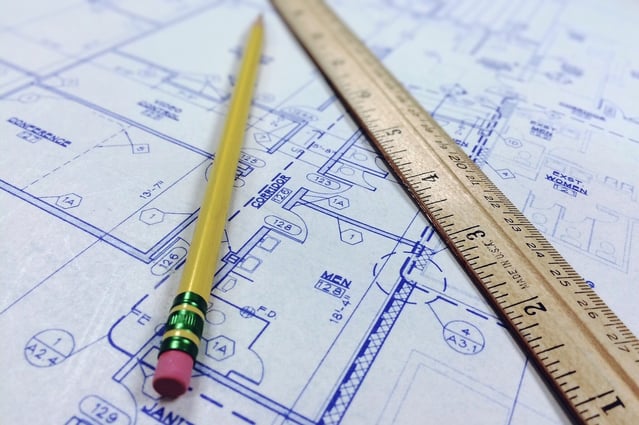 Do you feel a little overwhelmed when you try to decipher construction terminology? You're not alone. The terms that make perfect sense to design-build professionals are undoubtedly confusing to homeowners. If you've been contemplating a kitchen, bathroom or first floor remodel in Des Moines, you've probably encountered a few of these terms.
1 - Conceptual Design
The conceptual design process is intended to provide a rough description of the project based on your needs and wants. Thanks to sketches, models or 3D renderings, you'll be able to see a visual representation of your renovation project.
2 - Design Development
Design development is the nitty gritty phase of the design process. All of the small – and not so small – details will be added during this phase. Fixture and finish selection is what drives this phase. Trim and tile details, electrical layout, and other construction details are added as selections are completed.
3 - Construction Drawings
Construction drawings are scale drawings of the project as seen from multiple angles and may include the following:
Floor Plans

show the project as seen from above. They show specific architectural elements in your remodeled space, such as walls, windows, kitchen islands, cabinets, plumbing, electrical outlets, fixtures, and staircases.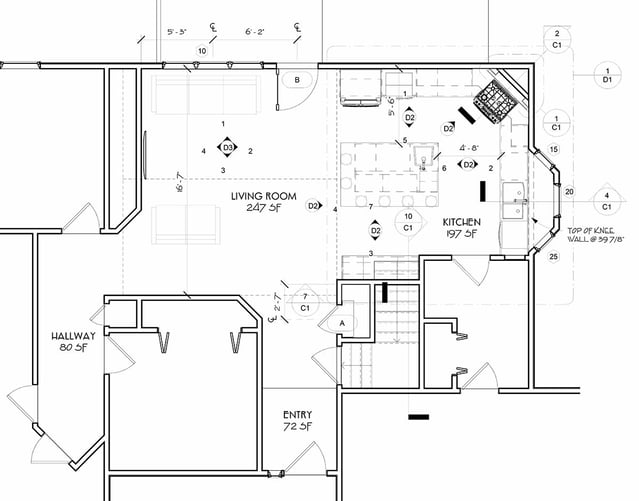 Elevations

show the face or side of a portion of the project as if you were looking directly at the surface (for example: a wall of cabinets in the kitchen or the front of your home).
Cross Sections

provide valuable information to make it clear how the various parts of a certain component should be built. Objects represented in cross sections look as if they've been cut in half.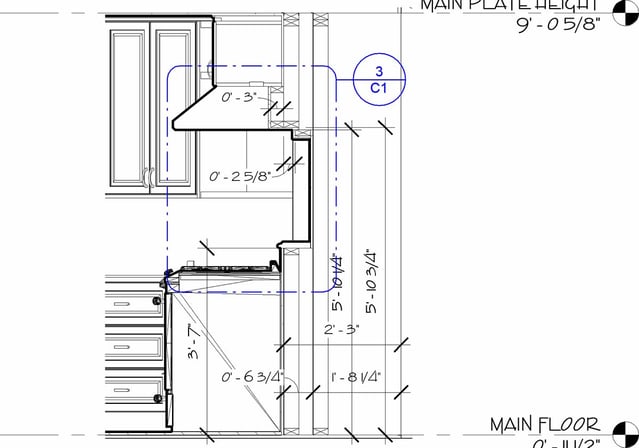 Callouts

are drawings that show an enlarged or magnified view of a specific part of another drawing meant to show intricate details for a specific aspect of the project. They can be plans, elevations, or cross sections.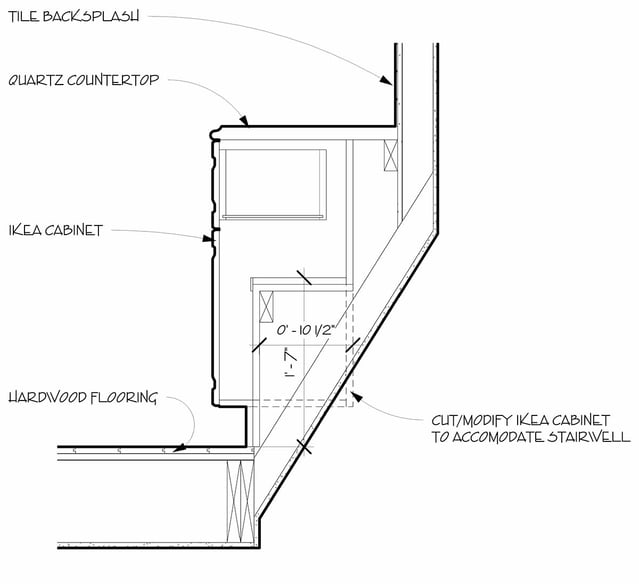 Perspectives

provide a "real life" viewing angle of your project showing proportion and integration of elements as they would appear from a specific vantage point. Imagine you're standing in one corner of a room and looking towards another corner of that room.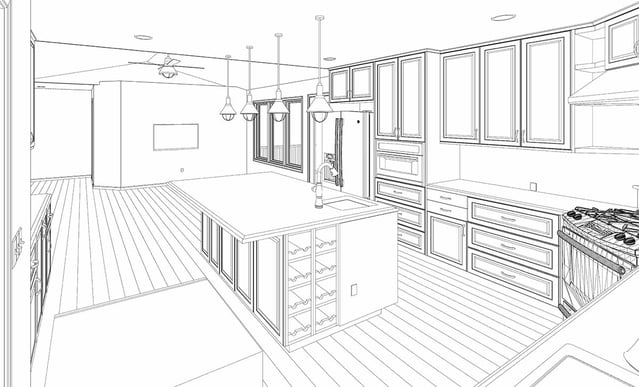 Renderings

are color perspectives. With today's technology it can sometimes be difficult to distinguish an actual photo from a rendering of a project. We can use rather low detail shaded colors and textures or produce a very true to life representation of colors and textures, shadows, and reflections that will be implemented in your project.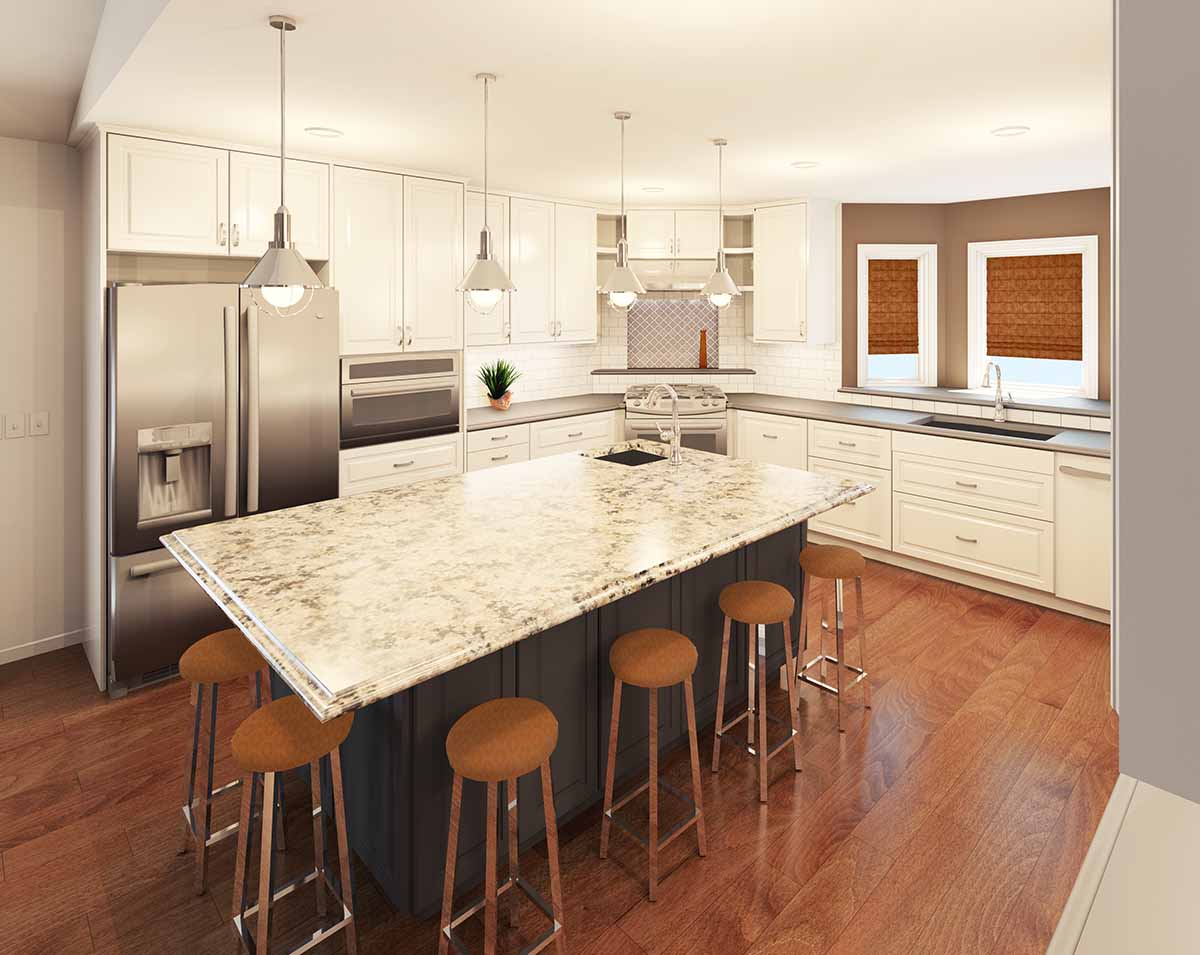 4 - Technical Drawings
Technical drawings include very specific details regarding structural issues and mechanical, plumbing and electrical systems. They're the set of drawings that your construction team will consult during the interior home remodeling process.
5 - Specifications
Specifications (commonly called "specs") list the materials, fixtures and finishes that will be used for your project, plus the methods that will be used to perform the work.
6 - Project Scope
The scope includes everything needed to complete your project, including materials, equipment, and labor. It describes all of the features that will be included, as well what won't be included.
7 - Estimate
An estimate is a prediction of costs based on labor and materials. Although estimates are often very accurate, it's important to remember that the final price will almost always vary from the estimate. Understanding what is included in the estimate and communication about how the price is changing as the work is completed is crucial. The final price will represent the actual cost for labor and materials used in the completed project.
8 - Fixed Price
The price for services is determined before work begins and doesn't increase even if completion of the project requires additional materials or labor.
9 - Contracts
Contracts are legally binding agreements between two parties, such as the homeowner and design-build firm detailing the responsibilities of each party. A contract may include a project description, scope, construction schedule, drawings, plans, conditions and responsibilities, prices and payment schedules.
10 - Design-Build Agreement
The design-build agreement is a negotiated contract that states the homeowner and contractor will work together to develop the final plan which will drive the final cost for the project. A design-build agreement will typically include an initial budget to be used as reference for the design development.
11 - Cost Plus Fee Agreement
In a cost-plus fee agreement, the homeowner agrees that the design-build or construction management firm will receive a fee for services - in addition to the direct and indirect costs billed for the project.
Understanding these common building terms will help you navigate the renovation process with confidence. When you're ready to move ahead with your plans, get in touch with us. We'll help you create comfortable, attractive rooms that add value to your home.
Sources:
Construction Place: http://www.constructionplace.com/glossary.asp
The Balance: What is a Construction Contract Agreement: https://www.thebalance.com/contract-agreements-844530