Remodeling clients tend to fall into two categories: those who come to the project with a specific budget, looking to see what they can accomplish with that; and those who come with a design in mind, willing to free up the budget to get the look they envision.
After 20 years in the business, partnering with hundreds of homeowners on projects up to hundreds of thousands of dollars, we've developed a road map that helps both types of clients reach the same destination - a finished project they can afford that is everything they imagined.
Below, we walk you through that itinerary so you can map out your own remodel journey.
1st Stop: The concept.
Whether you have your design firmly in mind or you have a budget you have to honor to the last dollar, the first step of your remodel journey should be a concept discussion with your design partner. From this, your remodeler can offer a budget range for each element of the project.
For example, a kitchen remodel might be broken down into multiple segments - tear out and demolition, new kitchen installation (cabinets, countertops, appliances, paint), flooring replacement or refinishing, new dining nook with windows, trim and floor refinishing in adjacent areas.
Having each of these elements listed separately, with its own budget range, allows you to better evaluate the project as a whole - and to prioritize the features that matter most to you.
At Kaufman, we provide a written "Conceptual Planning & Pricing" statement with this ballpark figure and design elements. Potential clients can review this and continue discussions before proceeding; they can sign an intent to proceed and provide a deposit to continue to the next phase; or they can opt to hold off on their project altogether.
No matter which perspective you're coming from, the Conceptual Planning & Pricing phase brings ideas and budgets together at a tangible starting point.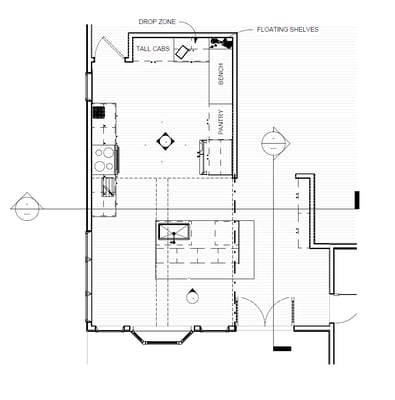 SAMPLE OF THE TYPE OF DRAWING WE WILL CREATE IN THIS PHASE
2nd Stop: The Commitment
Once you've agreed to a general path for your project, you can begin to map out a more detailed route for your project. With Kaufman Construction, that means specific design conversations...
Which items are must-haves and which are negotiable?
Which features will most enhance your life?
Which elements are key to the design for you?
What looks and products are most appealing to you and complement the style of your home?
Answers to these questions help your designer create the custom plan for your remodel. This includes everything from overall layout to material and product recommendations.

SAMPLE OF THE TYPE OF DRAWING WE WILL CREATE IN THIS PHASE
Our Construction Commitment and Design Development phase concludes with final plans, a more detailed budget, and an anticipated timeline from start to finish - a point by point roadmap for the weeks ahead.
3rd Stop: The Specifications
This transitional phase, between commitment and actual construction, is where all the behind-the-scenes planning happens. Though you, as homeowner, may not be actively involved at this point, you can be confident that all the details are coming together.
The "in-house" preparation takes place here so the construction phase goes smoothly later - our team spends this time finalizing every specification of your remodel, creating an itemized product list, and planning a day-by-day schedule that includes every step of the work and every contractor that will work with us on the project.
When you're dreaming of your first remodel, it's easy to get caught up in the ideas an to become fearful of the unknowns. Making shes planned "stops", before the first hammer swings, helps ensure that your dreams become reality - without any surprises along the way.
To learn more, check out our "Approach" page here.