The clients: Elaine & Jerel
The project: Main floor remodel – open concept; master suite remodel; kitchen remodel
Start date: January 2015
About the home:
- Built in 1990 (they bought in 2000)
- Over 1,500 square feet 1½ story home built in 1990
- High ceilings, balcony, open feeling
- A size and location they love
- Updates: finished basement in 2005; new roof, Pella windows, and new siding in 2010
How it all began
We first met Jerel and Elaine at the Home & Remodeling show in March 2014. They were in search of a remodeler committed to quality who could offer expert advice and professional guidance about what to update in their home. Prior to deciding to use Kaufman Construction for their project, they spent considerable time interviewing potential contractors and researching their previous projects, both online and in person. They also spoke with previous clients about their experiences with the firms. Ultimately, they chose to work with us because, in addition to liking our work, they felt we were a firm they could depend on. Also, they were happy that our relationship could continue long-term through our KC Handyman offering. This service gives Jerel and Elaine access to people they know and trust to help with ongoing home maintenance.
Project evolution
The Mericals' original intent was to start with a master bath remodel. They were interested in making other improvements to their home over time, but wanted to start with just one project so they didn't bite off more than they could chew. After we got to know them personally and learned more about their lifestyle and eventual needs for their home, the discussion turned to whether they should complete all their planned updates at once. That way, the disruption of everyday life due to construction would only happen one time. This ended up being a more cost-effective approach, as subcontractors could work on multiple projects in one visit, rather than coming out again and again. So the bathroom remodel became an entire main level remodel. The planning part of the project began in May 2014 and Jerel and Elaine quickly became personal friends of Kaufman Construction.
Incorporating accessible/universal design
An important thing we quickly learned is that this is their "forever" home; they want to live there well into retirement. This brought about an important conversation about the need for an accessible/universal design that the Mericals hadn't originally considered. To create a layout that can accommodate them in their elderly years, we made plans to incorporate ergonomic and structural elements to ensure optimal mobility and comply with Universal Design standards. Some of these features include:
- Hard surface floors without transitions (improves mobility quality for wheelchairs and walkers)
- 36" wide pocket door openings
- Zero-entry shower
- ADA toilet height requirements
- Open layout for 5' turnaround
- Simple tile patterns to create softness in case of eye sight failure
- Large format tile (better for wheelchairs and walkers)
- Staircase adjustments
- Main level laundry
- Door levers instead of knobs
- Faucet levers instead cross handles
- Adjustments to control dust and indoor air quality
Below are some pictures of the house, pre-transformation (click to view larger):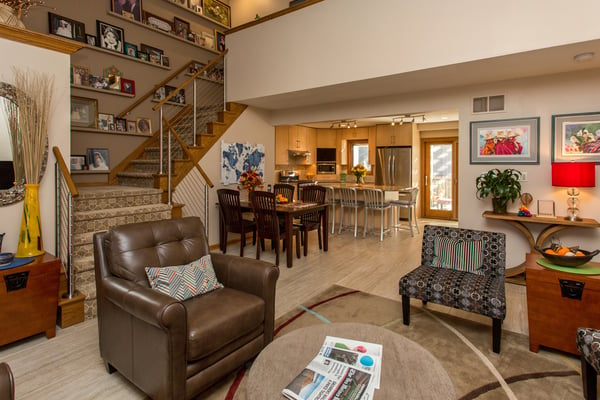 Stay tuned to see and read more about the progress of this exciting transformation!