by Kaitlyn DeVries, Kaufman Construction Interior Design Coordinator.
Form follows function in any design we do. Designing in general is like putting together a crossword puzzle – it's a balancing act to make everything fit in an available space and function correctly, while keeping in mind the aesthetics or "design principals."
Some specific things to consider when coordinating your bathroom flooring, shower tile, fixtures, etc.:
Balance
This is a layout control point. Sink vanities and tubs should be on opposite walls to equalize the space and keep the room from looking like it's tipping over. Color can help with balance as well – use equal weight between two tones to create harmony in a room.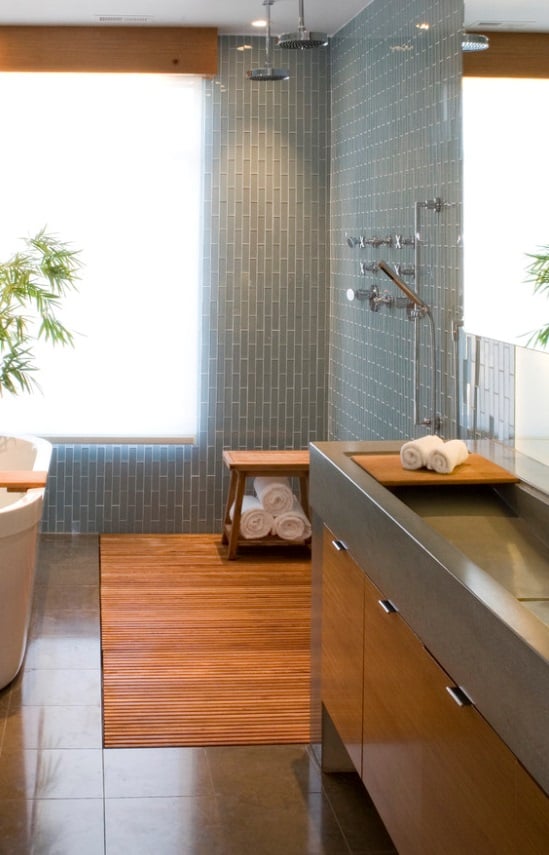 Proportion
If you have a small bathroom, consider using an oversized mirror to make a small bathroom look larger.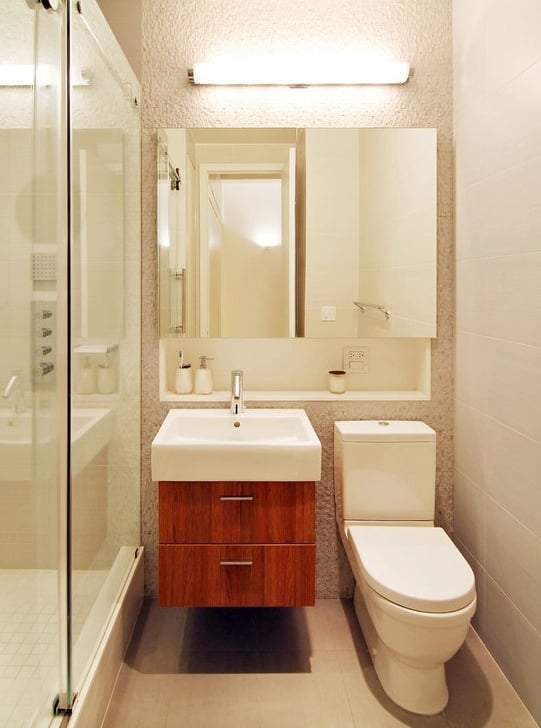 Rhythm
Tile brings a space to life; there are so many options for different colors, sizes and shapes! Don't forget texture to add a pulse to your bathroom. What about very ornate wallpaper? Or, consider grass cloth on your vanity wall!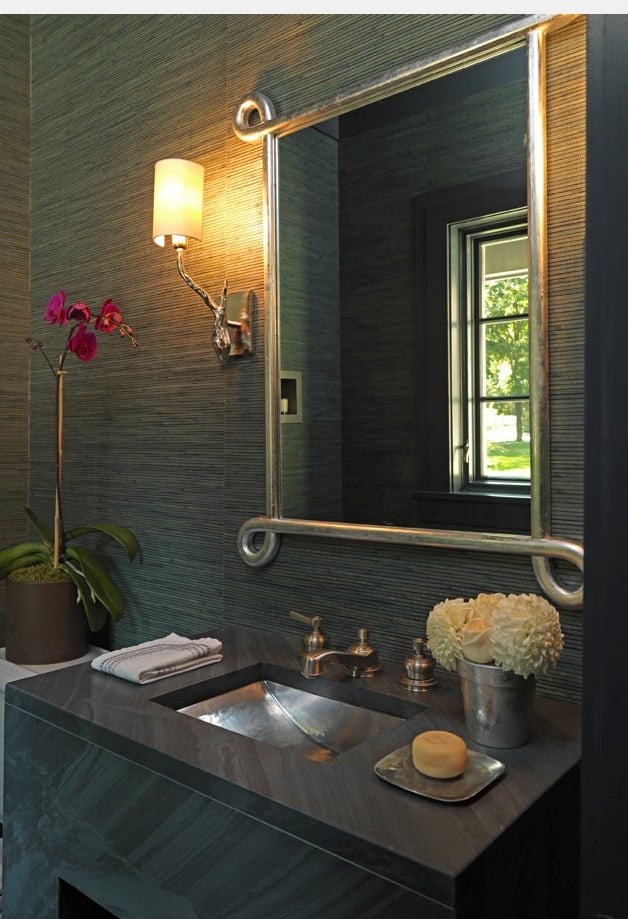 Emphasis
Avoid emphasis on the toilet as the main site-line when you walk into a bathroom! Rather, place emphasis on a shower medallion accent or create a natural wood backdrop to contrast with a white soaker tub. Add interest in a light fixture – check out this one reminiscent of bubbles!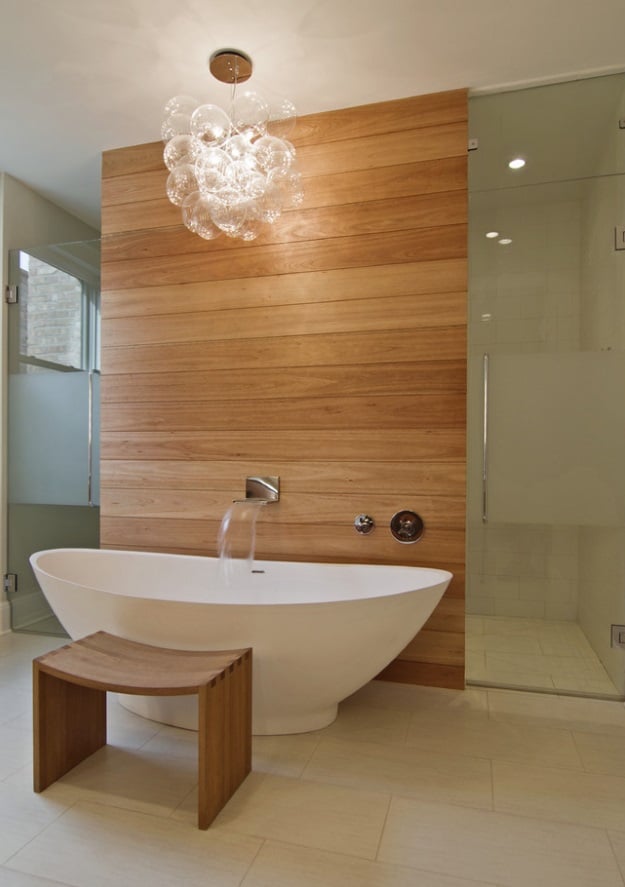 Unity
Use cohesive paint color palettes and make sure your plumbing fixtures coordinate (this doesn't mean they have to match though!). Be careful with material combinations, even with adjacent rooms – does your carpet in your bedroom coordinate with your floor tile? Is there a ceiling detail or sink niche that connects the entire space?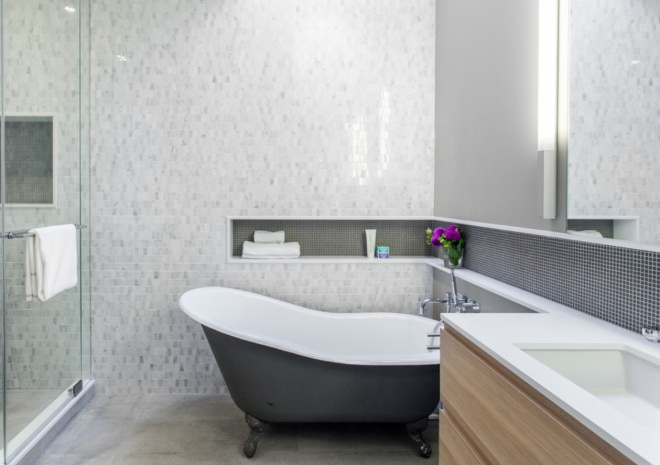 NEXT, it's a game of "connect the dots." How to you get from point "A" to point "B"?
Focus on the process instead of the end result. Sort through what matters and what doesn't, and prioritize your needs. To make a bathroom work, it's best to design from the cabinets and finishes backward to the walls and plumbing fixtures. Some things to think about:
Storage options.
No one likes hairdryer cords taking up countertop space.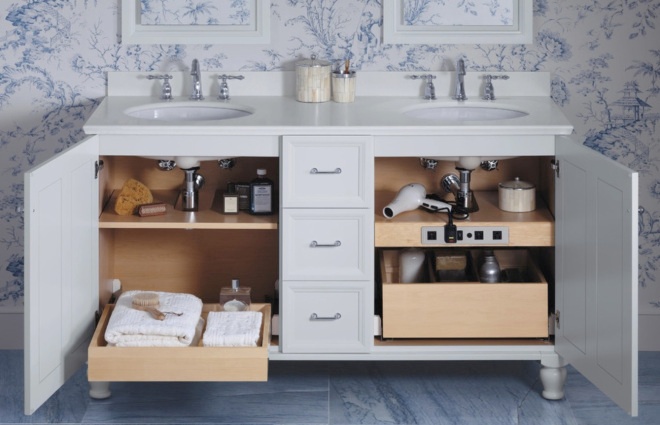 Natural light.
What about a skylight in the shower! If privacy is no concern, that is. Natural light is calming; bringing the outdoors in makes your bathroom feel fresh and soothing.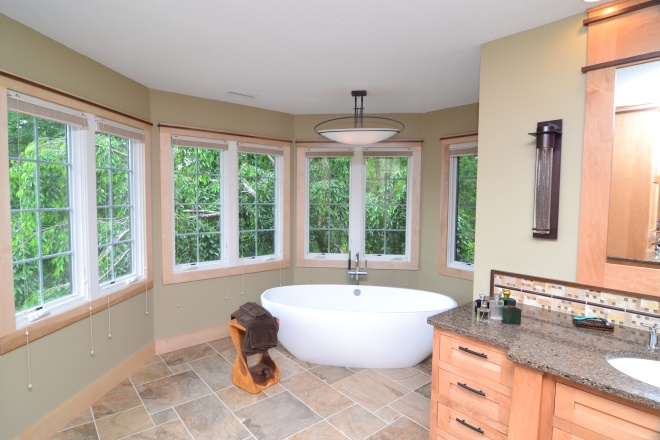 Special considerations.
Do you need Universal Design codes implemented (5' turnaround, grab bars, lower sinks or a curb less shower)?
Layout.
Avoid locating the bathroom directly off one of the home's public rooms — like the kitchen, living room or dining room. Imagine yourself having a glass of wine with your friends and you look over to see a toilet. Classy… not.
Flooring.
Do you want a heated floor? One of the biggest layout control points for a bathroom remodel is the door threshold. When installing a heated floor, our goal is to also implement a zero entry shower. Some worry about overspray or water on the floor, but we consider the slope of the tile floor when installing these curbless showers.
Privacy.
Consider privacy, as bathrooms tend to be shared. I'm a big fan of toilet rooms, but if you are one who doesn't like to feel enclosed, this solution serves dual functions – privacy and storage.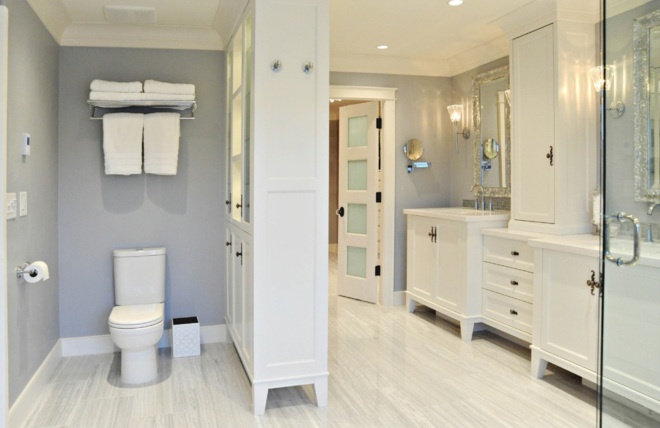 Areas of your design that should only matter to you – the homeowner:
Matching.
Design is not about matching, it's about coordinating. Check out the color wheel!
Porcelain or ceramic floors.
Both are great! Don't agonize over this one.
Size.
I have been in some small bathrooms — you know, the kind that make you feel like you have to lose 10 pounds to enter them. It's okay if your bathroom is small, though – you can maximize your space! Try using large patterns on the wall to make it feel larger, avoid using dark colors, round out sinks to avoid sharp corners, etc.
Finishes.
Brushed nickel or chrome plumbing fixture? Finishes are merely a preference. If you want to follow the trends, check out All About That Brass. Bronze is rich, but can scratch. Chrome can sometimes look cheap. Satin nickel and brushed nickel can be used in one room! It is okay!
How you're going to use the space(s).
Are two bathrooms better than one? You bet. Side-by-side sinks are great for large master baths, but for some couples, two small bathrooms work even better — each person gets a private nook. This may make for a smaller "master," but it can make for a more awesome experience every day.
Great design translates to a house that functions better, costs less to build, is more efficient to maintain, and gets you more for less. Bathrooms are VERY fun to design!