By Kaitlyn DeVries, Kaufman Construction Interior Design Coordinator.
I find the beauty of natural stone, wood, marble, quartz, or granite to be unmatched in comparison to lower-end products that I call "natural wannabes," such as LVT, laminate countertops, or tile that looks like wood. BUT… there is one instance where I do prefer the natural wannabe to the natural product: shower floors made of porcelain tile that resembles pebbles instead of natural river rock.
Many homeowners considering pebble flooring love the look but have reservations, and I can see why! Some pebble floors require resealing a couple times a year. That's a lot of maintenance. Not fun! Another concern: OUCH - those uneven stones can hurt! You may have heard that river rocks are amazing for the feet and feel like a foot spa massage, but I disagree.
Your master bathroom is a great place to bring in natural elements to create a serene, spa-like atmosphere to promote relaxation. Porcelain tile resembling river rock is a great way to get the look of pebbles with less maintenance and more comfort.
Below are two Kaufman Construction projects featuring this type of tile. The small format tile has great traction. With the proper grout, the flat/sliced finish doesn't hurt feet, as the tile is on the same plane, making it level and smooth. This porcelain tile is a great way to add color variation and visual interest. Also, the tile sheets fit together seamlessly when installed so there's less opportunity for scum buildup.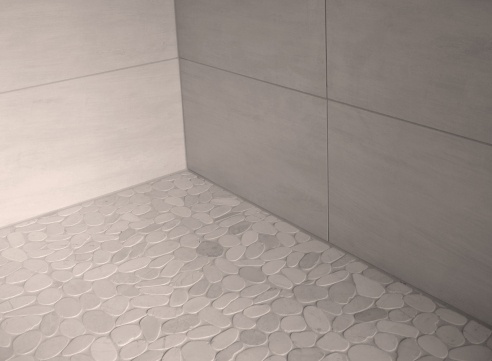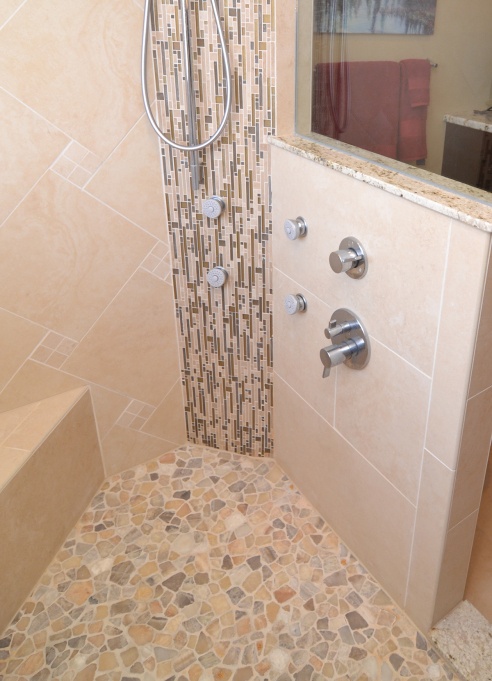 Some other fun ideas for your shower floor: