For years, we have encouraged clients who want to remove the huge whirlpool tub from their master bathroom to do so, regardless of the fact that real estate professionals have historically told them that, for resale, it's imperative to have both a shower and a bathtub in the master suite. While realtors still say you need at least one bathtub in your house, they have finally given up on the notion that is has to be a huge whirlpool one in the master bathroom.
We all know that resale value is seldom a good reason to remodel, but even when you expect to live in your house "forever," resale value is always in the back of your mind. Fortunately, the real estate community has finally given us license to make the master suite what we want, not what the next guy might want. It has really given us (designer and client) valuable square footage to be used to make the master suite the luxurious, functional space it should be.
While some people appreciate a long soak in a tub on a regular basis, I believe they're a shrinking minority. Now, an increasing number of homeowners are seeking spaces and features in their homes they actually use on a regular basis. They're forgoing formal living rooms and dining rooms in favor of open concept main levels. Similarly, people are rethinking whether they want to use up valuable real estate in a bathroom with a giant tub that gets used only a few times a year. Instead, they are gravitating toward larger, lavish, spa-like showers, sometimes with multiple heads and body sprayers.
People are also becoming more concerned about the environmental impact and cost of giant tubs due to the huge amount of water they use. And, I think many buyers are, quite frankly, grossed out by whirlpool tubs. They can be therapeutic after a long day, but the jets are typically really hard to keep clean and often end up just swirling around germy water (although you can splurge on a self-cleaning spa tub, which helps mitigate this problem). Additionally, these types of tubs can be complicated to install and require significant maintenance. However, I will say that deep soaking tubs, although they do use a ton of water, can be a really beautiful focal point for your bathroom – if you have the space for it. I don't remember the last time we installed a deck mount whirlpool, but free-standing soakers are popular and a major departure from the "tub of the past." Though they are deep and luxurious, they take up much less floor space than a large tub with a deck around it, so this allows for additional space to improve the floor plan.
Lately, people are also realizing a shower can be just as relaxing and luxurious as a bath. And, with upgrades in technology, showers use less water than you might expect. So, though we are still installing tubs in the master, we've removed many monstrous tubs to accommodate larger showers, many with curbless entry and linear drains. I have loved both of these concepts for years. There are also now so many designs and materials to "break down the walls" of a conventional shower for a more spacious feel and better accessibility. Glass or resin can be used for walls and showerheads can be arranged so doors are not even needed. Another concept I love, which is quite common in Europe and starting to gain popularity here, is a "wet room." The shower really has no boundaries (the entire floor slopes toward the drain) and anything within "splash distance" is waterproof (toilet, pedestal or wall hung sink, etc.).
Overall, with regard to the tub/shower debate and whether to include both, my advice is to consider how long will you be living in the house. If you plan to be there for many years, make the bathroom what you want it to be – if you love a bath, put in a lovely soaking tub; if you know you'll hardly ever use one, forgo it and use the extra space to for a larger shower, longer vanity, dressing table, or extra storage. I personally don't think it'll have an impact on your ability to sell your house for the price you want. However, if you are purely designing your space for resale, you may want to include a tub for your own piece of mind, as you may encounter buyers stuck on that expectation. Or, you may be just as wise to invest the extra money and space in a large, beautifully tiled shower with seating.
Some great master baths featuring large showers: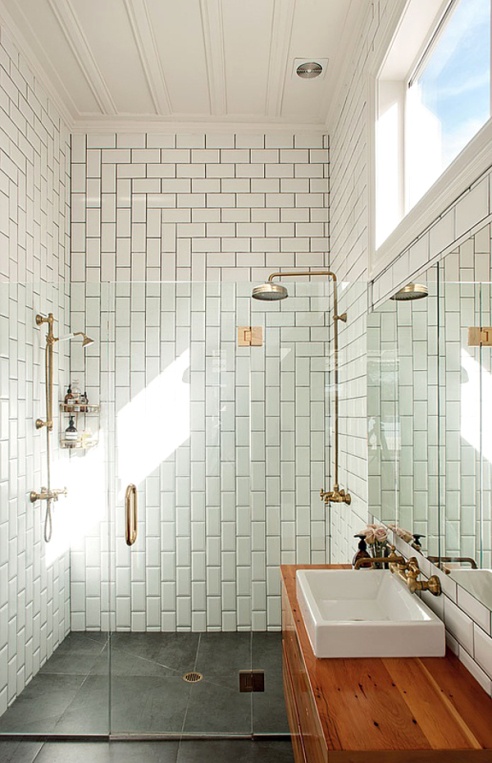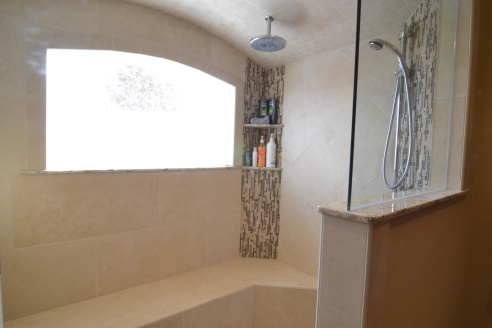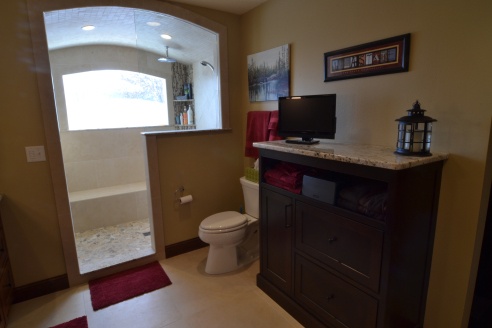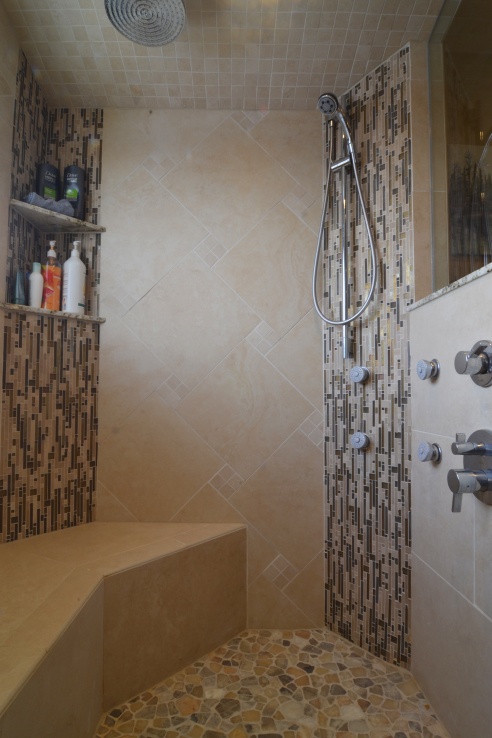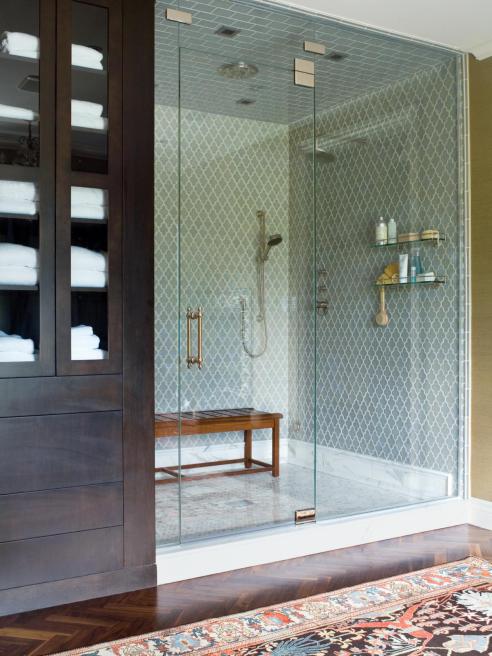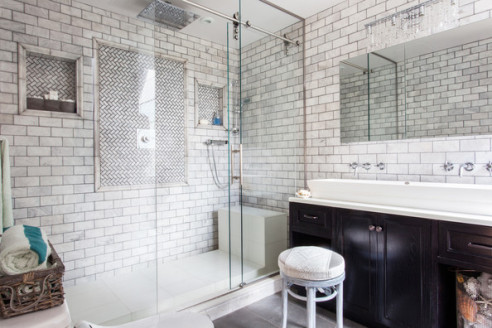 Sources: dustjacket-attic.com, kaufmanconstruction.com, kaufmanconstruction.com, kaufmanconstruction.com, hgtv.com, lonny.com, lonny.com