You've probably noticed a theme with the kitchen countertop materials I love – I'm a big fan of more eco-friendly, natural choices that are durable, made for actual working, and develop a patina over time. In addition to soapstone and butcher block, which I wrote about recently, I am a big fan of concrete surfaces.
I love concrete because of the simple, clean look it provides, as well as how functional, strong and versatile it is. Concrete countertops can be fabricated in practically limitless looks. They can be completely smoothed, sanded to expose the sand aggregate, or pressed to create marble-like veining. Pigments can be added to create completely custom colors. You can also get really creative and add inserts and inlays like stones, glass, tile, or metal.
Concrete countertops are generally precast in a shop so they can be completed in controlled conditions according to the homeowner's exact specifications. But, sometimes they are cast onsite. When they're precast, you will see seams in your countertops. Some homeowners prefer not to have these, but they're not all bad because they allow for the concrete to expand, which can reduce the likelihood of hairline cracks that could occur with the concrete's natural shrinkage down the road. I'm okay with these cracks, but some people are not. Either way, each countertop is custom-made by hand and completely unique.
Of course one of the big things you probably want to know about these countertops if you're considering them is what sort of maintenance is required and whether they're going to change as they age. Concrete is porous, so yes – they will slightly change their look and develop character over time (as I've said – this is an added bonus to me), but not because of stains – just because of time and use. Stains can easily be kept at a minimum by sealing the countertops and then waxing them every few months. If you do that basic maintenance, you don't really have to worry about spilling (as long as you wipe stuff up promptly) or setting anything (including hot pans) on these countertops. And actually, sealing has come a long way – some fabricators now call their concrete countertops "stain proof." Bottom line though, I wouldn't recommend this material to someone expecting a countertop that looks the same on day 1,000 as it did on day 1.
I mentioned this already, but it bears repeating – the big distinguishing factor with concrete countertops versus many other options is that they're individually handmade by true artisans. This means each one is going to be unique. This is why people love them, but also why people choose not to get them. Two countertops made individually according to a very specific set of specifications might still look slightly different and might wear slightly differently over time. So it goes with natural materials and with art. To love concrete, you have to be a little flexible with your end product (this is what makes the design process exciting!) and want a little one-of-a-kind character to your kitchen. Don't get me wrong – natural stone is completely unique too, but you can literally go pick the slab you want and it's going to stay the same over time.
To sum up, basically, I love this choice for countertops because it's not too fussy. It's a material that has been around for ages and isn't just a passing trend. It's super versatile and more eco-friendly than many other countertop options. I think it's so cool that it's so customizable and wears in such a way that your countertops will always be unique from anyone else's – even if they have concrete too.
(Side note: the concrete on your countertops will be nothing like the concrete in your driveway... unless you want it to be.)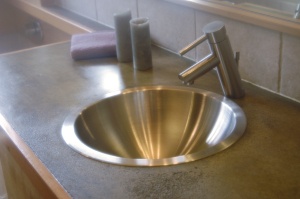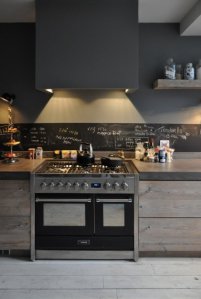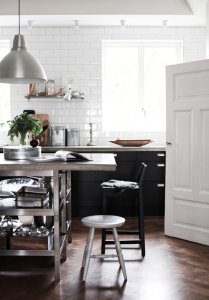 (Sources: kaufmanconstruction.com, remodelista.com, kaufmanconstruction.com, apartmenttherapy.com, apartmenttherapy.com)