Butcher block is a material gaining renewed popularity for kitchen countertops, and I think it's a great way to add warmth, character, and a more casual feel to your kitchen. Butcher block is made from straight cuts of wood glued together into thick slabs, and is most commonly made in two construction styles – edge grain or end grain.
Edge grain is constructed from long boards joined together on their sides. It's a great option because it's beautiful and functional, yet also easiest to build, which makes it cost effective.
If you want to do some serious food prep directly on your wood countertops, end grain butcher block may be the way to go. In this construction, wood pieces stand vertically to show only the end of the wood. This style is pricier because it's harder to manufacture, but its most ideal for areas where functionality is really important, as end grain creates a very durable surface that does not show knife marks as much as the other types of butcher block.
Here are what I consider to be the pros of using butcher block on your countertops:
- It really warms up the space and is a nice departure from or complement to the coldness of stone.
- It's durable and long lasting (if you care for it properly).
- It's repairable (big plus in my book)! Nicks or stains can be sanded down and the surface can be re-oiled.
- My favorite: it develops a lovely patina over time! I love a kitchen that's the obvious heart of the home. If you want your kitchen to be pristine and show no signs of use, butcher block is not the surface for you.
- It's naturally antibacterial and antimicrobial (when properly sealed).
- It mixes beautifully! I love butcher block with soapstone, marble, and concrete countertops. It's a great contrast and way to soften the space.
- It's versatile. Wood countertops look great in many styles of home, from traditional to super modern.
- Butcher block is green – it's biodegradable and comes from a fully renewable source.
All that said, there are some things about this surface that you'll want to consider before you install it (some might call these 'cons'):
- Wood countertops are not heat or stain resistant.
- Butcher block could crack over time if exposed to extreme dryness or humidity (unlikely).
- If you install these countertops around your sink or in any area that will be exposed to a lot of moisture, they could rot and discolor. So, if you put butcher block on an island or in just one area of your kitchen where you do a lot of slicing and dicing, don't seal it and prepare away! But, if you want them everywhere, including near your sink, you probably should consider sealing them. Either way, respond to standing water and spills promptly and you'll be fine.
- That patina thing (to some) (a pro, if you ask me).
- Wood countertops require some maintenance (see below).
What is butcher block typically made of?
Basically, about any wood. But, maple is really popular because it's hard. One wood I particularly love is bamboo. Other popular options include cherry, red oak, walnut, teak, wenge, and zebrawood.
That maintenance thing:
If you're putting butcher block in your kitchen and you're going to prepare food on it (i.e. without a cutting board), you need to use unsealed, oil-finished wood. Sealed countertops – while more resistant to water damage and stains – are not meant to be used a food-prep surfaces. So like I said, if you just love the look but are fine using a cutting board and treating your countertops like you would granite or another hard surface, seal 'em up! But, if you really want to use your 'tops for cutting, forgo the sealant. Sealing them will, however, will give your countertops a little less of the rustic, warm, "lived in" look. Also, because it's not as easy to properly clean butcher block as it is to clean a cutting board, sometimes people who have the unsealed block still use a cutting board.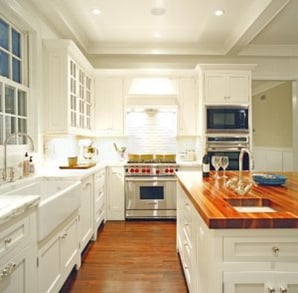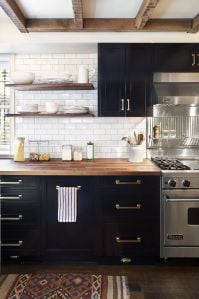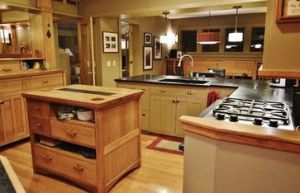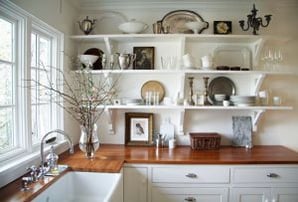 Check out more photos of butcher block countertops in our Houzz photo book and on Pinterest.
Also, read a great post from Remodelista about what to consider when you're choosing your kitchen countertops.
(sources: thekitchn.com, blairharris.com, lonny.com, kaufmanconstruction.com, acountryfarmhouse.blogspot.com)