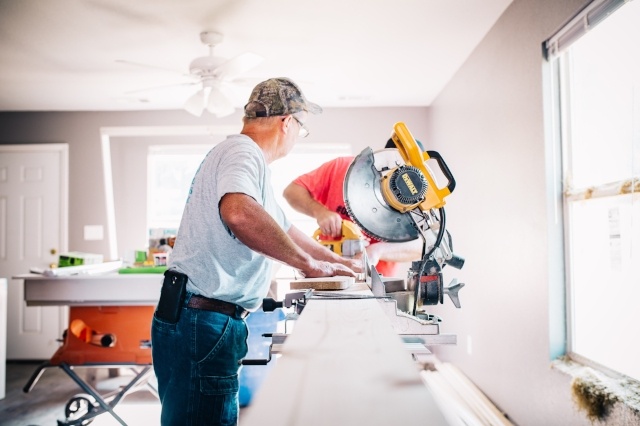 When choosing a general contractor to build your addition or remodel, you must diligently research the options available to you. One of the factors that should carry weight in your choice is how the company proposes to make the job least disruptive to your family. There's no denying that a construction project inside your house will affect your lifestyle, but there are things your contractor can do to minimize the disruption and leave you with a positive feeling about the process.
Kaufman Construction focuses on two major factors to help clients live through the process: communication and cleanliness.
Communication
Daily communication with the client is our objective, through in-person contact with the project manager and with the aid of an online program that aids complete openness.
The project manager is onsite daily and available to talk with the homeowners about the project. Additionally, we schedule weekly meetings with our clients to make sure they are kept informed about the progress of their remodel.
Not knowing when someone will show up to work or what part of the job will be done that day or that week makes it tough to live with a project in your home. Because life isn't perfect, sometimes the subcontractors we hire can't make it on a certain day. But we won't let you get home and find out that the plumber didn't show up; you'll hear it from us first.
Online Tool
In addition to face-to-face communication, we use an online tool called Buildertrend to keep in touch. On the dashboard, the homeowner can see the construction schedule to learn what is planned each day, or two weeks in the future. All the job's documents are available on Buildertrend, including drawings and photos, change orders, a running tally of costs and payments made, as well as what remains to be paid. The program also features a message board for the homeowner to communicate with our team.
Cleanliness
The other big area of concern for us is the cleanliness of the job site, both to reduce inconvenience for the client and to keep everyone safe.
To that end, we follow general practices such as sectioning off work areas with plastic dust barriers and covering any floors that our workers will be crossing — or requiring them to take off their shoes. On hard-surface floors, we roll out Ram Board, and on carpets, we use a stick-down carpet protector. On top of that, we place a runner, and everything is swept up at the end of each workday. At the end of the week, we might pick up the protective flooring so that you get your room back to normal as much as possible for the weekend. If we're working in a bathroom or other room, we close the door so that weekend visitors won't even know that your home is being transformed on the other side of the door.
Safety
Also at the end of each day we put away all tools and material scraps and make sure there are no cords lying around as trip hazards. We keep our tools and supplies in a trailer at your site or in a designated corner or closet. This makes the space easier for you to live in, more efficient for our crews to work in and safer for everyone. We're very aware of the dangers to children of unattended tools.
We know that you will remember your experience with Kaufman Construction long after your new kitchen or addition is finished, and we want that memory to be a positive one.