Preparing your home for winter
The changing colors and falling leaves that announce the beginning of autumn also serve as a red flag, warning us that another Iowa winter is just around the corner. That means, between the leaf raking and football watching, it's time to take a serious look at whether your home is ready for the cold months ahead.
Any little issues you may have noticed over the past six months are going to be much more evident when the temperature drops, because minor weaknesses tend to accelerate in winter. Below, we give you some suggestions for a pre-winter inspection.
Roof & Siding
In general, the key to winterizing comes down to this: getting moisture away from the house as quickly as possible.
With your roof, that means inspecting shingles, flashing, and valleys to make sure materials are in good condition. Though minor issues may be managed with skilled repair work, a poorly patched roof, with excessive caulk or blackjack built up, can cause more problems than it solves.
Also, take a look at the siding where it meets the roof. Paint and flashing in these areas should be in good condition, with no flaking or warping. Proper clearance between the roof and siding helps prevent snow and water from building up, which can lead to ice dams. And proper clearance between siding and the ground protects the siding from long-term exposure to moisture, which can rot some siding materials or seep behind the siding and cause damage inside the home.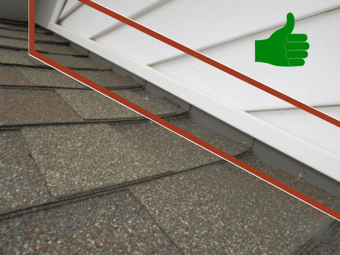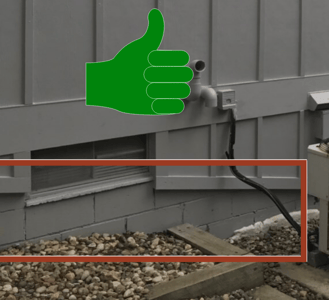 Gutters & Downspouts
Make sure your gutters and downspouts are in good condition, properly attached, and free of debris.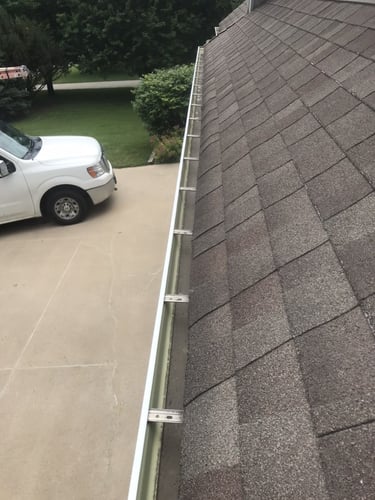 PROVIDING A CLEAR PATH FOR WATER TO RUN OFF THE ROOF AND AWAY FROM THE DOWNSPOUTS MINIMIZES OPPORTUNITIES FOR ICE DAMS TO BUILD AND FOR WATER TO SETTLE NEAR YOUR FOUNDATION.
This is a good time to evaluate your downspout systems and drainage around the home as well. In addition to keeping moisture away from your foundation, proper drainage protects you and your guests from safety hazards that result from ice buildup on walkways and driveways.
Windows & Doors
Well-sealed doors and windows seem like merely a comfort issue, which most of us notice more in the winter, but it's a problem year-round. Besides affecting your comfort and your home's energy efficiency, though, poorly sealed windows and doors can also lead to costly damage.
Inspect your windows and doors for signs of weakness, like condensation, flaking paint, and missing caulk or trim.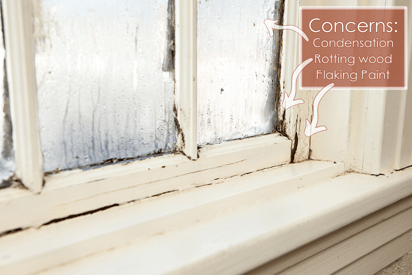 CONCERNS: CONDENSATION, ROTTING WOOD, FLAKING PAINT
On doors, also look for gaps around kick plates and latches, which can allow cold air and moisture to seep in.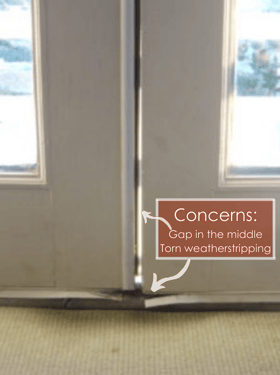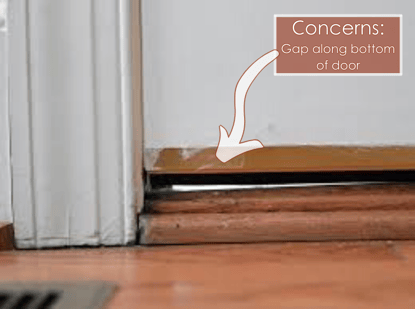 CONCERNS: GAPS NEAR THE DOOR WHERE AIR CAN SEEP IN, TORN WEATHERSTRIPPING
What starts out looking like a need for paint can end up resulting in full-scale window replacement. Sanding, refinishing, and sealing the window or door trim at the first sign of wear can not only save on your heating and cooling bill, but on replacement costs, too.
Before you do a walk-around inspection yourself or call on the services of a skilled partner like KC Handyman, think about where you've had issues in the past. If you live in a newer development, what repairs have your neighbors been doing? Chances are, these are the first areas you need to examine.
Many preventive maintenance issues begin as minor cosmetic problems. But those little cosmetic problems are often structural hazards waiting to happen, the proverbial pound of cure you could avoid with an ounce of prevention.
Spending a little time and money now really could save you a fortune later.